Quick Links to Best Prices Price History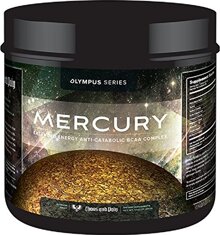 Product Information
Chaos and Pain Olympus Series Mercury 20 serving

One of the hardest things to explain to a neophyte athlete is the utility of branched chain amino acids for the average person. It's not that they're not useful, but it's that no one can "feel" them, so they have idea if they're achieving their desired effect. The time for that is over, as Olympus Mercury is the first targeted BCAA product that does what it says and makes itself noticed the second you glide through the "wall" in your training like it was never there.

Olympus Mercury is the first BCAA product specifically designed to improve endurance, whether it's on the track, on the trail, on the road, or in the gym. Not only does it contain your standard BCAA in a 2:1:1 ratio, but it also contains Waxy Maize Starch, Taurine, Sodium Bicarbonate, and Citrulline Malate for sustained energy and power, Glutamine for improved recovery, and Sodium Chloride, Potassium Chloride, and Magnesium Citrate for electrolyte management.

Impressed? We sure are. The only thing worse than losing overall is losing after an incredible start. Avoid the crash- make like it's the 17th Century drink some Mercury.1

Directions: Consume one scoop during any intense endurance exercise to prevent muscle dehydration and catabolism; reduce post-exercise cortisol; prevent soreness and pain; improve brain function when fatigued; eliminate cramping and help elevate fat burning to preserve muscle glycogen stores.

To ensure maximum effectiveness Olympus Mercury should be consumed on an empty stomach or in conjunction with rapidly absorbed carbohydrates.

Other Ingredients: Citric Acid, Red Beet Color, Fruit Punch flavor, Acesulfame-K, Sucralose, Sipernat.

Note: Ingredients and Nutrition Data may differ between flavors.
These statements have not been evaluated by the Food and Drug Administration. This product is not intended to diagnose, treat, cure, or prevent any disease.
1: Individual results may vary. Reviews are based on the experiences of a few people and you may not have similar results.