Quick Links to Best Prices Price History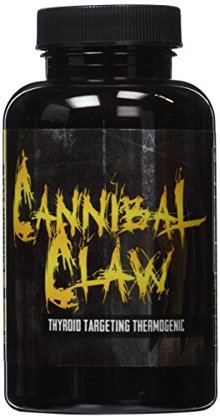 Chaos and Pain Cannibal Claw
Product Information
Chaos and Pain Cannibal Claw 60 capsule

Losing fat never goes fast enough, and with most fat burners, the faster you want to lose it, the jitterier you get. No one wants to look like their neighborhood crackhead on the street corner, so Chaos and Pain decided to bring the world a fat burner that speeds thyroid activity, rather than your adrenal system, to burn fat. As we said with Cannibal Inferno, body fat is the enemy, and we're declaring total war.

Utilizing three main ingredients no one's ever thought to combine, T2, 3,5-Diiodo-L-tyrosine, and N-Caffeoyldopamine, Cannibal Claw will rip the fat off your body by jacking your thyroid activity through the roof while the N-Caffeoyldopamine acts as a selective beta-2 adrenoreceptor agonist to stimulate fat loss through traditional means, but without the shakes. Other companies have claimed they have a game changer, but we're telling you- this is it.1

Directions: Take one capsule for every 75 lbs of bodyweight twice a day. DO NOT EXCEED 6 WEEKS OF CONTINUOUS USE OR INHIBITED THYROID FUNCTION MAY RESULT.


Warning: This product is not a traditional stimulant, so you will not "feel" it the way you do a traditional fat burner. Despite that, it is working- do not greatly increase the dose. Overuse could cause very serious adverse health conditions. Not for use by individuals under the age of 18. Do not use if you are pregnant or nursing. Consult a healthcare professional prior to use if you have, or have a family history of, heart disease, diabetes, high blood pressure, depression or other psychiatric condition, glaucoma or seizure disorder, or if you are using a monoamine oxidase inhibitor (MAOI), lithium, any , or any over-the-counter . This product is not intended as a substitute for sleep. KEEP OUT OF REACH OF CHILDREN & PETS. STORE IN A COOL DRY PLACE.

Other Ingredients: Gelatin, microcrystalline cellulose, magnesium stearate.
These statements have not been evaluated by the Food and Drug Administration. This product is not intended to diagnose, treat, cure, or prevent any disease.
1: Individual results may vary. Reviews are based on the experiences of a few people and you may not have similar results.