Quick Links to Best Prices Price History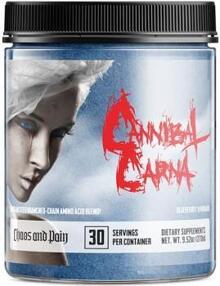 Chaos and Pain Cannibal Carna
Chaos & Pain Cannibal Carna
Cannibal Carna by Chaos and Pain is a highly instantized, zero-calorie, 8:1:1 branched chain amino acid designed to aid hard-training athletes' performance, recovery and endurance. Packed with 3.2 grams of Leucine, Cannibal Carna is ideal for endurance athletes, as consumption of a BCAA blend consisting of at least 30% Leucine prior to training has been shown to increase mental and physical performance in their respective sports.
Chaos and Pain Cannibal Carna Key Benefits
Increased Fat Loss / Muscle Retention

Extreme Endurance Increase

Increased Muscle Mass

Increased Recovery

Cholesterol Control
Resistance trained athletes will benefit from Cannibal Carna's Leucine content as well, as pulses of Leucine during post-exercise recovery have been shown to increase muscle hypertrophy and maintaining net positive muscle protein. With two delicious flavors and no carbohydrates, Cannibal Carna is the perfect addition to pre-, intra-, or post-workout drinks to ensure reduced muscle soreness, improved performance, and to preserve muscle mass.