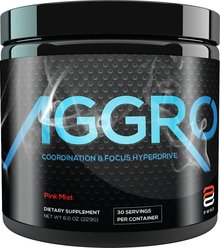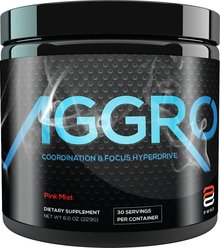 Product Information
Chaos and Pain Aggro 30 serving

PWND Aggro is a completely unique, highly intense, hyper-driven, focus-laden energy drink specifically designed for gaming. Aggro fuels you for gaming in a way no other energy could- it combines unique Russian nootropics, three different types of caffeine salts to ensure a steady release of energy, and cutting edge neurotransmitters to turn you into a gaming juggernaut.
Unlike any other formula ever created, Aggro's bleeding-edge formula enhances mental function, reduces reaction time, and provides laser-like focus in ways you've never experienced.

Challenge accepted- game on.

Ingredient Breakdown:

N-Acetyl L-Tyrosine- Improves cognition under acute stress, working memory, and subjective well-being. Aggro contains 750mg, and recommended doses are 500-2000mg (Source).

Agmatine- Increases blood flow, improves cognition, and reduces anxiety- all of which are awesome for gamers. The active dose for cognition is 1.6-6.4mg/kg per day, which is equivalent to 217-435mg for a 150lb person. Aggro contains 700mg (Source).

Oxiracetam- Improves focus, memory, and verbal fluency. Aggro contains 500mg, and recommended doses are 400-800mg (Source).

Alpha GPC 50%- Improves performance in combination with racetams like noopept and oxiracetam, increases power output, and reduces cognitive decline. Typical doses are up to 400mg. Aggro contains 200mg (Source).

Picamilon- Improves memory retention, recall, attention, and mood. Doses up to 150mg are typically recommended. Aggro contains 200mg (Source).

Caffeine Anhydrous, Malate, and Citrate- Improves reaction time and acts as a stimulant. The three caffeine salts have differing release times to promote steady energy over time. Doses of over 100mg have the most profound effect. Aggro contains 200mg (Source, Source).

Noopept (N-phenylacetyl-L-prolylglycine ethyl ester)- Improves memory, focus, mood, and cognition. Aggro contains 20mg and typical doses rang from 10-30mg (Source).1

Directions: For insane reaction time, laser focus, and unbridled energy, chug one (1) scoop about 30 mins or sip it while you crush your opposition.

Other Ingredients: Silicon Dioxide, Natural and Artificial Flavoring, Sucralose, Citric Acid, Debittering Magnesium, FD&C Red #40.

Note: Ingredients and Nutrition Data may vary between flavors.
These statements have not been evaluated by the Food and Drug Administration. This product is not intended to diagnose, treat, cure, or prevent any disease.
1: Individual results may vary. Reviews are based on the experiences of a few people and you may not have similar results.