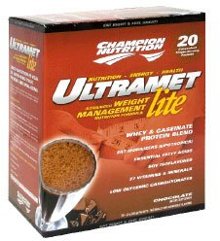 Champion Nutrition UltraMet Lite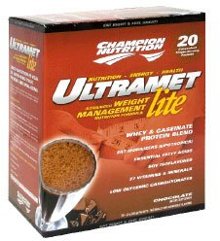 Champion Nutrition UltraMet Lite
Advanced Weight Management Nutrition Formula
When dieting, good nutrition is vital to improving your fitness and well-being!
With today's busy schedules it's nice to know you have a delicious, compact and convenient alternative to home cooking. Just open a packet of UltraMet Lite... mix and enjoy. With every delicious serving of UltraMet Lite you get a complete array of nutrients to help:
Boost Your Energy Levels*
Feed Your Tired Muscles*
Support Fat Loss*
Each serving of UltraMet Lite contains 1/3 less calories than UltraMet, yet it delivers a more nutrient-dense formula with 29g of protein to help you achieve your dieting goals more quickly. A "blended" protein formulation from 7 different sources, including casein and whey. gives your body a steady stream of amino acids. Enhanced levels of L-glutamine and taurine deliver the nitrogen boost your body needs for muscle recovery and new tissue development. The right blend of simple and complex carbohydrates promotes a controlled insulin release to optimize energy and reduce the potential fatigue associated with blood sugar letdown. Fat mobilizing ingredients L-carnitine and choline along with CitriMax (garcinia cambogia) help burn existing fat and help reduce the conversion of excess carbohydrate to fat. And finally, a full complement of vitamins and minerals helps support your metabolism.*
Even with all these nutrients, Ultramet Lite contains only 1.5g of fat, including essential fatty acids, and only 190 calories per delicious satisfying serving. Each serving comes in a convenient single-serving packet. Make UltraMet Lite an integral part of your weight management program and enjoy the journey to a slimmer you. Who said dieting had to be a chore?*
Looking for more nutrient-rich calories and 50% more protein in your meal supplement formula? Try UltraMet Original with 280 calories and 42 grams of protein per serving!