Quick Links to Best Prices Price History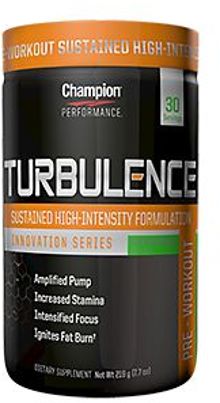 Champion Nutrition Turbulence
An All-in-one
pre-workoutformulation
with clinicaldosage levels
designed to sustain the
demands of high-intensity workouts delivering four effective benefits:
Amplified Pump*
Increased Stamina*
Supports Focus
Ignites Fat Burn*
THE SCIENCE BEHIND THE STORM
Although Arginine is the direct 'substrate' for Nitric Oxide Synthase (NOS) and Nitric Oxide production, supplementing with Arginine is not overly affective.*

Supplementing with L-Carnitine will increase plasma Arginine levels more so than Arginine. Over 80% of Citrulline is converted to Arginine vs. less than 1% of oral Arginine being used for Nitric Oxide production.*
Nitric Oxide Explained Turbulence contains the powerful combination of AgmaPure and L-Citrulline Malate, which worktogether to help promote healthy Nitric Oxide levels in the body.*

Nitric Oxide promotes healthy vasodilation—this causes blood vessels to relax and allow optimal blood circulation. Enhanced circulation translates into optimal levels of oxygen and nutrients deliveredthroughout the body. It can also support the clearance of waste from cells, including lactic acid. Together these effects support ongoing PUMP and STAMINA during high-intensity training.*
Break it down
Build it up
FOUR CORE PRODUCTS BENEFITS INTO ONE PRODUCT!
Pump:
AGMAPURE (AGMATINE), CITRULLINE MALATE, TAURINE
Stamina:
AGMAPURE, CITRULLINE MALATE, CARNOSYN (BETA ALANINE), TAURINE
Focus:
L-THEANINE, L-TYROSINE
Champion Performance
Standing out in the crowd
Athletes want to know what they're consuming. At Champion Performance, we know that "propriety blends" can be deceptive. We take great pride in maintaining complete transparency regarding all our products by providing fully-disclosed ingredient lists. All of our performance-based claims are substantiated by extensive research and studies. We earn your trust with our product safety and purity, branded ingredients, studied dosages, and clinically demonstrated performance benefits.*
Strategic Formulation
Proven and researched AgmaPure (agmatine sulfate) provides a key component for Nitric Oxide (NO) production, which leads to increased oxygen and nutrient delivery for greater PUMP and accelerated clearance of lactic acid for improved STAMINA.* L-Citrulline Malate not only promotes optimum Nitric Oxide (NO) production for increased PUMP and STAMINA, but also adds additional STAMINA benefits by buffering lactic acid build-up.*

Carnosyn (beta-alanine) promotes the body's natural system for lactic acid clearance.* Taurine supports healthy hydration of muscle cells, which supports muscular endurance during high-intensity training.*

Both L-Theanine and L-Tyrosine are known to support a healthy stress response and balanced mental clarity. L-Theanine has been found to promote alpha-wave activity in the brain—an indicator of calm FOCUS.*

An optimal caffeine dosage (200mg) provides immediate support for concentration and energy without the jitters.*

Advantra Z (Citrus aurantium) orange extract and pure yohimbe bark extract are safe and effective thermogenic ingredients to support FAT BURN and promote lean muscle mass maintenance.*