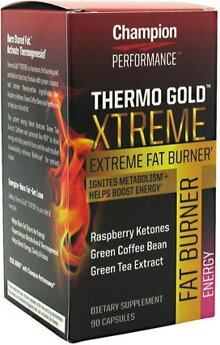 Champion Nutrition Thermo Gold Xtreme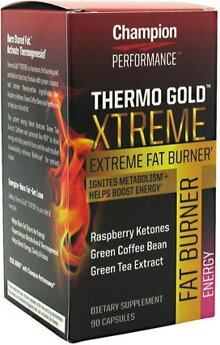 Champion Nutrition Thermo Gold Xtreme
Helps Burn fat stores for energy*
Helps Drive Energy, Clarity & Focus*
More than just a jolt, a true fat burning formula*
EXTREME FAT BURNER
IGNITE METABOLISM + HELP BOOST ENERGY + GET LEAN
Raspberry Ketones
to help burn fat & calories
Green Coffee Bean
to help boost metabolism
Green Tea & L-Tyrosine
for energy & focus
Hordenine & Rev Pea*
promote thermogenesis & support mood
HARDCORE, FAT BURNING, METABOLISM BOOSTING FORMULA
with proven science and intense thermo-active ingredients like Raspberry ketones, Green Coffee Bean and Hordenine to help burn stored fat*.
This potent energy blend features green tea extract, caffeine and patented Rev PEA to drive energy and help speed fat burn.
The well-studied bioavailability enhancer BioPerine ensures optimal nutrient uptake.*
It takes a combination of hard work, discipline and the right nutrition to achieve the ripped, strong, powerful body you want.
To RISE ABOVE just average, you need the most effective science-based nutritional fuel from a source you can trust - no matter what. This is where Champion Performance comes in.