Quick Links to Best Prices Price History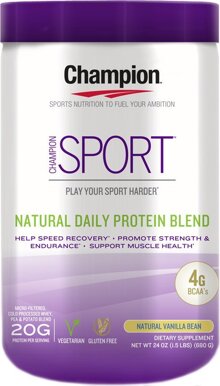 play your sport harder
Play Harder & Recover Quicker
• For team and competitive athletes
• 20g Vegetarian Pea, Potato & Whey Protein
• Natural antioxidant + recovery blends
Champion Sport is a daily shake mix that gives you the right amount of blended protein- which offers nutritional advantages over a single source- to support your specific ambition. That's combined with a nourishing mix of natural and scientifically researched ingredients you won't find anywhere else.
Promote strength and endurance with a moderate level of protein that helps build strong muscle without overly increasing mass and absorbs in stages to provide nourishment at the start and throughout the game.
Support muscle health with powerful antioxidants activity from a unique combination of berries, vegetables, and herbs.
Help optimize protein absorption and digestion with essential enzymes and herbal extracts. With more than 30 years of experience in sports nutrition, we're ready to help your body reach the fitness goals your mind can envision.