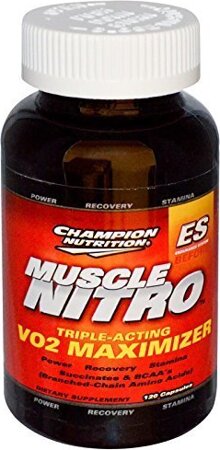 Champion Nutrition Muscle Nitro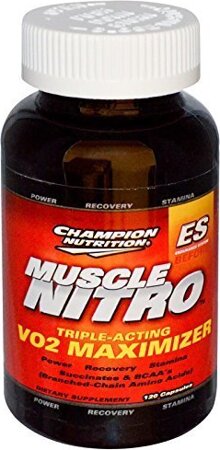 Champion Nutrition Muscle Nitro
Many of the top professional and amateur athletes
are familiar with the function of this revolutionary product but they won't even tell their best friend about it.
You can improve exercise capacity.* Muscle Nitro improves aerobic capacity.* And that's not based on some pie in-the-sky claim, but results derived from a university study conducted by world famous exercise physiologist, Dr. Thomas Fahey.
This literally means "more wind". Think about being 11% better tomorrow than you were in your last race.
Muscle Nitro can help you recover more quickly.* Every time you maximally stress muscle, calcium ions leak out and damage the membranes of your muscle cells. This sets off a chain of events which can easily cut your recovery rate in half. In another university study it was suggested that Muscle Nitro prevented muscle damage (as determined by blood tests), and also reduced subjects' perception of delayed onset muscle soreness.*Reduce Soreness the Day After*: Muscle Nitro may lessen the intense soreness that results from serious training by reducing muscle damage and acid accumulation.* Result: Tomorrow you may have the desire and strength to train hard again.*
For Pre-Workout Power: Muscle Nitro's unique combination of Branched-Chain Amino Acids and Succinates act synergistically to do what amino acids alone could never do: give you better workouts by reversing the major factors that undermine intense training and growth.*
Stop Acid Accumulation*: Succinates, a natural and essential part of your metabolism, work by promoting energy production with oxygen faster and more efficient.* Support oxidative energy production helps prevent strength-robbing metabolic acids from ever forming.* The result: You may stay stronger and feel better throughout your workout.*
Reduce Muscle Breakdown During Training*: During training as much as ten-percent of your energy comes from amino acids, most of which come from the breakdown of your hard-earned muscle tissue. Branched Chain Amino Acids, L-Leucine, L-Isoleucine, and L-Valine can stop tissue breakdown faster and more completely than any other amino acids.* Result: You may recuperate and grow faster because less damage occurs to your muscle.*
Gives You More "Wind": Muscle Nitro helps provide that important "2nd wind" in your workouts by making energy production with oxygen faster and more efficient.* Result: You feel less fatigued; have more stamina, and higher performance.*
Information about Digestive Enzymes written by Michael Zumpano - Founder of Champion Nutrition
Muscle Nitro: Train Harder, Recover Faster*
Muscle Nitro was one of Champion Nutrition's first products. Its effects on the human body, however, are nothing short of amazing. We've offered it mainly to professional athletes because, until recently, we could only make a small amount each year. Here is a simplified explanation of Muscle Nitro:
Muscles grow in order to adapt to stress. The two most important words in the last sentence are stress and adapt. Stress means: if you want to get bigger you have to train harder. Adapt means: you have to recover faster if you want to get bigger. We'll talk about training harder first. From a physiological view, training harder comes down to just one thing: how well you can replenish ATP. ATP is that final unit of energy used by muscles to do work. Maintaining ATP requires oxygen, but there is a catch: some of your precious oxygen is always wasted because of proton and electron leakage in the cells mitochondria. If someone could find a way to reduce this waste, you could train harder - much harder! Someone has found a way. In fact it was discovered over 30 years ago by a Russian researcher, Dr. Kondrashova. She showed that succinate, an organic compound necessary for life, added to an animal's diet, improves the yield of ATP at a given level of oxygen use1. In other words, you can train harder.* As a side benefit because less energy is wasted you have better thermoregulation2. This improves stamina in strength athletes.*
The second part of our equation is, recovering faster. No matter how well you manage your amino acid intake, recovery depends on how much damage your workout causes. There is good damage, damage that stimulates growth, and bad damage, damage that just causes pain and makes it harder to recover and grow. The bad damage is caused by calcium ions. When a nerve tells a muscle cell to contract, calcium ions leave a protective space in the muscle cell and bind with the contractile fibers. This causes them to contract. The calcium is immediately released. The Calcium must go back into the protected space before the muscle cell can contract again. This can happen 10 to 70 times a second! The trouble is that, the longer it takes to get it back into its protected space, the more bad damage it does. The worst part: it chews holes in muscle membranes. This is why you get sore and why you get a cortisol bump. And this is where Succinate is so amazing and effective. Succinate improves the control of calcium in tissues3.* As a result, our 1992 University study suggested that Muscle Nitro reduced soreness after intense exercise2.* You'll feel much less destroyed after your workout and you'll recover faster.*
With Muscle Nitro you may train harder while feeling better and you'll have less soreness and fatigue.* We're talking objectively about Muscle Nitro, but if you train very hard, the improvement you'll feel is quite astounding. For Serious athletes this is the end all and the be all supplement!!!
Michael Zumpan
Founder - Champion Nutrition
1
Succinic acid in skeletal muscle during intense activity and during rest; Dokl Akad Nauk SSSR 1971;198(1):243-6 Kondrashova MN, Chagovets NR.
2
Regulation of the heart mitochondrial respiration rate. Comparison of oxidation of succinate and NAD-dependent substrates; Biokhimiia. 1991 Aug;56(8):1420-8. Kholodenko BN, et al.
3
acid oxidation as the only energy support of intensive Ca2+ uptake; Biochem Biophys Res Commun. 1982 Nov 30;109(2):376-81. Kondrashova MN, et al.