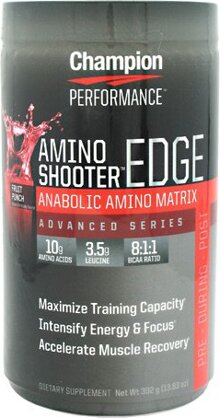 Champion Nutrition Amino Shooter Edge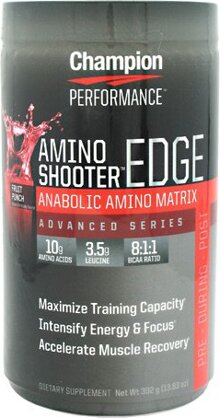 Champion Nutrition Amino Shooter Edge
Double

Your Amino Firepower

Accelerates Muscle Recovery

Keeps your body in a constant anabolic state

leucine-rich amino formulation

energy and training intensity blend

Heavyweight Gainer 900 is Loaded with Vitamin-Rich Calories for Muscle gain and Strength Without the Fat.
10G
aminos
Per Serving
3.5G
Leucine
Per Serving
8:1:1
BCAA
Ratio
The Champion Performance Standard
Lean Muscle Growth
Optimal 8:1:1 BCAA ratio ignites protein synthesis,reduces muscle breakdown and supports lean muscle growth.
Workout Performance
Improve endurance and strength during workout. Improve recovery and reduce soreness after workout.
Faster Recovery
BCAAs help to offset muscle breakdown during workouts while supporting recovery and repair post training.
Fact Not Fiction
How much leucine does the leading amino powder contain? The label doesn't tell you. Our label clearly states that you get 3.5g of leucine per serving.
Timing &Workout Integration
perfect for a pre-workout energy boost
Amino Shooter Edge contains 102 mg of caffeine per serving,about the same as 1 cup of premium brewed coffee. If you prefer a stronger energy boost take 1 serving of Amino Shooter Edge pre workout and another serving halfway through your workout. This works particularly well for workouts lasting longer than 90 minutes.
Flavor
Flavor that will have you coming back for a second scoop
Blue
Raspberry
Fruit
Punch
Citrus
Crush
Great Taste &Quality Guaranteed
Taste-tested by athletes across the nation. Formulated in our own GMP-certified facility to ensure purity and optimal effectiveness.
The Champion Legacy
Champion Performance has been an innovator in sports nutrition since our founding in 1986. Our team includes experts with medical and science backgrounds as well as individuals who are extremely passionate about and involved in nutrition and fitness. Together,we work hard to develop effective and healthy products using the very latest scientific research.