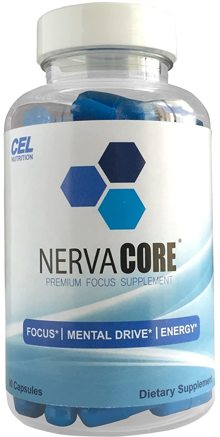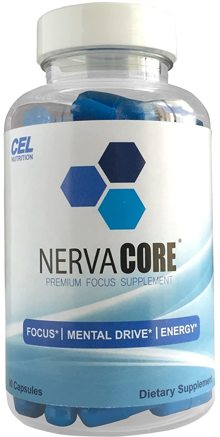 Supports Performance Up To 8 Hours*
NervaCORE
Premium Focus Supplement
THE BEST VERSION OF YOU
COMPETITIVE EDGE* SHARPEN FOCUS* BOOST ENERGY* SUPPORT HEALTHY BRAIN FUNCTION*
WHAT IS NERVACORE?
NervaCORE is a powerful nootropic specially formulated to support energy, focus, and memory.* Many pre-workout supplements give you short bursts of energy followed by long periods of physical and mental fatigue. NervaCORE provides you with up to 8 hours of supported performance, with less chance of crash.*
WHAT ARE THE BENEFITS?
On average the brain burns 20% of our daily caloric intake, but accounts for just 2% of our total body mass. We take a wide variety of supplements to promote muscle growth and digestive health, why not treat our brain the same way? By supporting neural transmission and information processing, NervaCORE may support energy, focus, and memory.* This plays a huge role in your physical health and performance. You need to be firing on all cylinders to be the most productive!
WHO SHOULD USE NERVACORE?
Athletes are raving about NervaCORE. Increased reaction speed, energy levels, and spatial awareness give them a competitive edge that you just can't get with other caffeine-based workout supplements. NervaCORE isn't just for athletes though. Anyone can benefit from a supplement that supports drive, memory, and sociability.* NervaCORE's revolutionary formula is all about helping you progress every time you hit the gym, office, and personal life!*
MENTAL BOOSTING MATRIX:
VITAMIN B COMPLEX:
May support the health of the nerve system, memory, and reaction speed.*
L-TYROSINE:
Helps with overall mood, promote physical and mental energy.*
HUPERZINE-A:
Used to support memory, learning, and concentration.*
PHOSPHATIDYLSERINE:
Supports mood and encourages nutrient absorption to the brain.*
GUARANA:
Boosts energy, alertness, endurance, and fat loss.*
ACETYL-L-CARNITINE:
Promotes a healthy mood, memory, and supports endurance.*
TAURINE:
Supports mental focus, energy levels, hearing, and immune modulation.*
ALPHA-GPC:
Linked to focus, mental drive, REM sleep states and supports muscle strength.*
VINPOCETINE:
Promotes memory and mental focus.*
BIOPERINE (black pepper extract):
Increases active nutrient transport and absorption.*