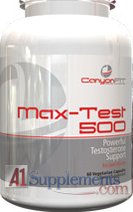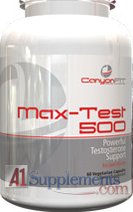 Muscle Size & Strength
Increased Libido
Bone Density
Stronger Erections
Decreased Body Fat
Prostate Health
Plus More....
Max-Test 500 is an all-natural testosterone-boosting supplement
formulated exclusively for IFBB Pro Bodybuilder Jimmy Canyon. It increases and targets the body's natural production of testosterone and prevents it from converting to estrogen. The following active ingredients are plant extracts that make these processes possible.
Fenugreek Extract
– documented to substantially increase the body's natural production of testosterone.
Eucommia Ulmoides Bark Extract
– has been used for centuries in Traditional Chinese Medicine as a key ingredient in aiding rejuvenation of male strength and sexual function, and in effectively limiting testosterone conversion to estrogen.
Urtica Dioica
– Clinical studies confirm that this plant extract has a long and successful history of relieving male prostate problems. It also inhibits male testosterone conversion to estrogen, directly reducing the levels of undesired estrogen known as 16a-hydroxyestrone (bad estrogen).
Diindolylmethane (DIM)
– This cruciferous plant indole controls and reduces estrogen, effectively promoting the good estrogen and helping to maintain the small amount of 2-hydroxyestrone (good estrogen) needed in men.

Including "Max-Test 500" in a daily regimen will allow one
to see and feel results of the powerful anti-aging ingredients that protect DNA chromosomes, or vital telomeres, which help slow down cellular aging, improve immune system function, and protect from disease.
Supplement Facts:
Serving Size: 1 Capsule
Serving Per Container: 60
Amount Per Serving
Proprietary Mix 500mg
Fenugreek Extract, Eucommia Ulmoides Bark Extract, Calcium D Glucarate, Diindolylmethane (DIM), Resveratrol, Urtica Dioica Extract, Apigenin(Extracted from Celery Seed), MCP (Modified Citrus Pectin), Cordyceps(Grown Wild In Tibet), Plant Based Fulvic Acid Trace Minerals And Electrolytes, Milk Thistle Extract, Rhodiola Rosea Extract(Russian), Brown Rice Extract
Other ingredients: Cellulose.
Does not contain soy, sugar, salt, yeast, wheat, gluten, milk, fish, egg, shellfish, bovine, porcine/pig, drugs, hormones, or preservatives.
Directions: As a dietary supplement, adult males take 1 or 2 capsules in the morning and prior to bed or as advised by your qualified health care professional. Can be taken with food if needed.
Note: Manufacturers continually change product specifications. While we try our best to keep product descriptions up to date, they do not necessarily reflect the latest information available from the manufacturer. We are not responsible for incorrect or outdated product descriptions and/or images.

These statements have not been evaluated by the Food and Drug Administration. This product is not intended to diagnose, treat, cure, or prevent any disease.