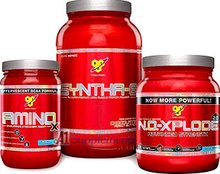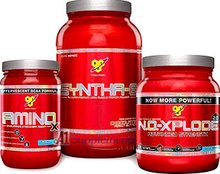 Syntha-6
Syntha-6 is the ultra-premium protein with an ultra-premium taste.
Our multi-functional protein blend utilizes multiple individual proteins, each with varying digestive rates and distinct amino acid profiles. This combination ensures active muscles are fed for hours with the most complete blend of proteins available.
To enhance this ultra-premium blend
, Syntha-6 has been loaded with BCAAs, muscle-sparing glutamine peptides, A²ZORB for greater digestion and healthy MCTs and essential fatty acids. Last but certainly not least, each serving of Syntha-6 provides you with 5 grams of fiber for slower digestion and increased nutrient uptake.
---
N.O.-Xplode 2.0
Whether it's greater size and strength that you're after
or improved speed and endurance, BSN knows you're out there, day after day, pushing yourself to the edge in order to get one step closer to your goal. Whatever your endgame, you deserve a complete pre-workout igniter that can keep pace. BSN has answered the call with its most powerful formula yet, equipping athletes everywhere with the tools to achieve real progress and push past previous limitations. Experience the new strength of a legend – experience N.O.-XPLODE 2.0, the extreme pre-training energy & performance igniter.
---
AMINOx
Over the years, BSN has supplied the supplement world
with a host of novel muscle-building products. In our undying quest to bring exciting and innovative products to the marketplace, we have developed the newest supplement breakthrough with BSN's highly-anticipated entry into the branched-chain amino acid market withAMINOx - the first Effervescent Instantized BCAAs Endurance and Recovery Agent. AMINOx is designed to support:
Protein Synthesis / Anabolism
Glycogen Resynthesis
Insulin Sensitivity
Anti-Catabolism / Muscle Sparing
Recovery from Training Sessions
Muscular Endurance
Resistance to Muscular Fatigue
Supplement Facts:
To view label for Syntha-6, 2.91 Lbs., click here.
To view label for NO-Xplode 2.0, 2.48 Lbs., click here.
To view label for AminoX, 30 Servings, click here.
Note: Manufacturers continually change product specifications. While we try our best to keep product descriptions up to date, they do not necessarily reflect the latest information available from the manufacturer. We are not responsible for incorrect or outdated product descriptions and/or images.

These statements have not been evaluated by the Food and Drug Administration. This product is not intended to diagnose, treat, cure, or prevent any disease.