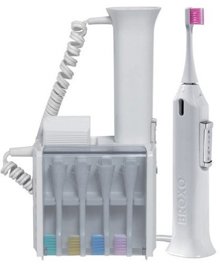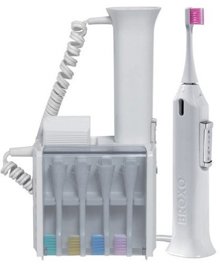 The Original since 1956
Most effective and powerful action for healthy teeth & gums 
Superior plaques removal through a combined mechanic + sonic action: 
The result of 50+ years of research and development, the motor of the BROXO OraBrush™ delivers a powerful yet entirely smooth mechanical action through a patented high intensity motion.
Transmitted through the stembrush, this optimal mechanical action induces the ultimate sonic action beyond the tip of the bristles, dislodging plaque even below the gum line.
Leading gingival index improvement through a potent gum physiotherapy:
  When applied to the gums, the unique action of the BROXO OraBrush™ is unequaled in its massaging and strengthening effectiveness, resulting in a significant and sustainable gingival index improvement.
No Battery = Earth friendly
Clinically proven to stop gingivitis in 8 days and bleeding due to periodontal disease in 30 days.
BROXO Inventor of oral hygiene prophylaxis automatization since 1956
Potent Gum Physiotherapy:  Leading gingival index improvement
Increased Capillary Blood Flow:  Pulsated multijets hydromassage
Effective Interdental Cleaning:  Microfractionated multijets flossing
Mechanic + Sonic Actions:  Superior plaque removal
Contents:
1 Automatic toothbrush
1 Safety step-down converter 120V or 220V-240V/14V
4 Color-coded stem brushes
1 Wall holder
Designed in Switzerland; Assembled in China
Please Note: This item has been built to U.S. electronics specifications and may need additional modifications or converters to be used in countries other than the U.S. and Canada.
* These statements have not been evaluated by the Food and Drug Administration. This product is not intended to diagnose, treat, cure, or prevent any disease.