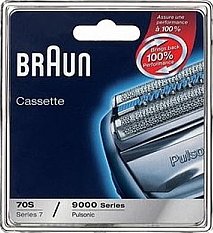 Braun Shave Accessories Series 7 Combination 70S Form 9000 Pulse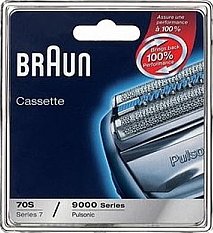 Braun Shave Accessories Series 7 Combination 70S Form 9000 Pulse
Braun 70S Series 7/Pulsonic Foil and Cutter cartridge
. 
Replacement parts for Braun's Series 7 & Pulsonic models 9585 and 9595.
To maintain optimal shaving performance you should clean the shaving parts regularly with Braun cleaning agents and consider replacing the foil and cutterblock every 18 months.
Product Features
This replacement foil and cutter combo pack will fit the following Braun shavers: Model No. 5671, 5673, 5675, 760cc, 790cc, 9585, 9785, 9595, 9795
Foil and cutterblock
Fits Braun Pulsonic & Series 7 range of shavers
Blades should be replaced every eighteen months
Replacing your blade gives a 25% better shave
For optimum performance, clean regularly. Brings back 100% performance.
* These statements have not been evaluated by the Food and Drug Administration. This product is not intended to diagnose, treat, cure, or prevent any disease.