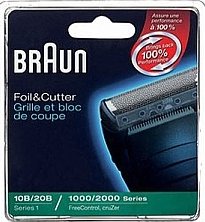 Braun Shave Accessories Series 1 Combination 10B Form 1000/2000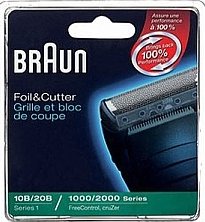 Braun Shave Accessories Series 1 Combination 10B Form 1000/2000
Braun 10B/20B Series 1/1000/2000 Series Foil and Cutter cartridge
. 
Replacement parts for Braun's Series 1 & 1000/2000 Series models.
Would apply to model 1775 & Series 1-150.
To maintain optimal shaving performance you should clean the shaving parts regularly with Braun cleaning agents and consider replacing the foil and cutterblock every 18 months.
Product Features
This replacement foil and cutter combo pack will fit the following Braun shavers model No. 1775, Series 1-150, 2560, 2540S, 2540, 2060, 2040, 2035, 1512, 1509, 1508, 1507S, 1013S, 1013, 1012, 1008.
Extra large foil to cover greater surface area in one stroke.
Spring mounted blades allow closer cutting alignment to your skin
Foil geometry allow blades to get extremely close without irritating your skin
Trimmer removes long and difficult-to-cut hairs. Foil follows to shave shorter hairs even closer.
Pops out for precise trimming of moustache and sideburns.
* These statements have not been evaluated by the Food and Drug Administration. This product is not intended to diagnose, treat, cure, or prevent any disease.