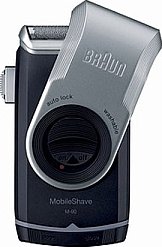 Braun Mobile Shave Silver M90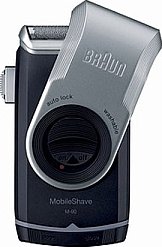 Braun Mobile Shave Silver M90
Mobile Shave Silver M90
Smart Foil - unique foil pattern captures hairs growing in different directions.
Wide Floating Foil - for a close comfortable shave.
Long hair trimmer- use the extendable long hair trimmer for exact trimming of side burns and moustaches. To operate; slide the long hair trimmer to the right and turn on the appliance. After use; slide it back until it engages.
Washable - Easy cleaning under running water.
Please Note: This item has been built to U.S. electronics specifications and may need additional modifications or converters to be used in countries other than the U.S. and Canada.
* These statements have not been evaluated by the Food and Drug Administration. This product is not intended to diagnose, treat, cure, or prevent any disease.