Warning: This product is not currently available at any store.
Click the button above and PricePlow will email you when the first store has it in stock!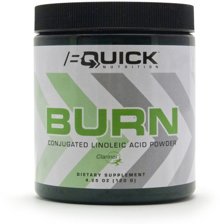 BQuick BURN with scientifically backed Clarinol CLA (conjugated linoleic acid) powder can help you reduce body fat, increase muscle tone, improve body composition and maintain a healthy physique.*
Look Great! Feel Great! Live Great!
CONJUGATED LINOLEIC ACID POWDER
Scientifically backed Clarinol CLA (conjugated linoleic acid) natural ingredient in powder form*
Studies suggest that when 3 grams of CLA are consumed daily, body fat may be reduced safely in 8 to 12 weeks*
BQuick BURN offers 4 grams of CLA per serving daily*
Helps to support lean muscle mass & muscle tone*
Aids in blood sugar stabilization already in healthy range*
A powerful antioxidant that may help support cardiovascular health *
BQuick BURN is most effective when combined with a healthy diet & regular exercise*
Gluten free, vegetarian, non-dairy & non-GMO*
BQuick BURN Ingredients
Conjugated Linoleic Acid (CLA) from Clarinol
Formulated in powder form, CLA is a natural ingredient made from safflower oil. It is designed for weight management and has been suggested to help reshape bodies by supporting healthy body composition, increasing muscle tone and building lean muscle mass in eight to 12 weeks when combined with a balanced diet and exercise program.* It aids in blood sugar stabilization, already in healthy range, and is an antioxidant that may help support cardiovascular health.* The product is gluten free, vegetarian, non-dairy and non-GMO. Kosher and Halal Certified.*