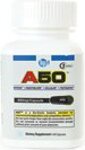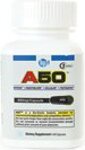 EXPIRATION 06/2015
Description
1 Full Cycle
Pharmaceutical Grade Capsules
Dietary Supplement
A50 is intended for experienced bodybuilders and serious athletes only. May be used to promote a dramatic increase in strength and lean body mass, as well as red blood cell manipulation resulting in severe vascularity. Use can increase testosterone uptake and improved nitrogen balance resulting in enhanced protein synthesis and greater cellular tissue.
Suggested Use
Take one (1) Capsule three times per day. Take every day. Must be taken on a full stomach. For best results take four to eight (4-8) consecutive weeks. A four (4) week break between cycles is recommended.
Other Ingredients
Micro crystalline cellulose, magnesium stearate, gelatin, FD&C blue #1, FD&C red #40, FD&C yellow #6 and titanium dioxide.
This product has undergone extensive Research & Development and was manufactured for optimal Potency & Purity, using Good Manufacturing Practices.
Warnings
Do not cycle longer than eight (8) consecutive weeks. Do not consume or exceed recommended dosage without prior consent of your physician.
A50 is not for beginners and in no way should be cycled or used without first consulting your physician.
Consult with a licensed physician before using this product if you have prostate hypertrophy, liver disease, kidney or heart disease or are being treated for any medical condition. This product should not be taken by women. In particular, those women who are pregnant, lactating, or trying to become pregnant, should not take this product. Do not take this product if you have been diagnosed with elevated cholesterol, prostate cancer, testicular cancer or breast cancer, or are under the age of 18. Keep this product and all supplements out of reach of children. Must be 18 years of age or older to purchase this product.
Supplement Facts
Serving Size: 1 Capsule
Servings Per Container: 60
Amount per Serving
% Daily Value

A50 Proprietary Active Matrix:
7-hydroxy-3-(4-hydroxyphenyl)-8-[(3r,4r,5s,6r)-3, 4,5-trihydroxy-6-(hydroxymethyl) oxan-2-yl] chromen-4-one; 5,6,7-trihydroxy-2-pheny-chromen-4-one;undec-10-enoic-acid

450 mg
**
Proprietary Co-Active Matrix:
Lysimachia clethroides (leaf part) P.E.; Blepharis edulis (seed part) P.E.; Diplocyclos palmatus (aerial part) P.E.; Anacyclus pyrethrum (root part) P.E.; Ulmus davidiana (leaf part) P.E.; Bitter root (root/rhizome part) P.E.; Eclipta prostrata (whole part) P.E.; Psoralea corylifolia (seed part) P.E.; L. barbarum (fruit part) P.E.; E. koreanum Nakai (leaf part) P.E.; M. officinalis How (root part) P.E.; C. cassia L. (bark part) P.E.; E. caryophyllata L. (bud part) P.E.; Poria cocos (whole part) P.E.; Rhizoma atractylodis (root/rhizome part) P.E.; Coffea arabica (seed part) P.E.; Pinellia rhizome (root/rhizome part) P.E.; Panax L. (root part) P.E.; Citrus x tangeria (peel part) P.E.; Glycyrrhiza glabra (root part) P.E.; Ricinus communis (seed part) P.E.; Zingiber officinale (root part) P.E.; Citrus nobilis (peel part) P.E.
**% Daily Value not established.