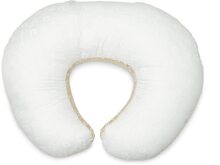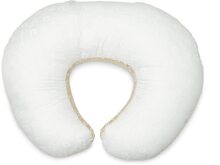 Feeding and Infant Support Pillow.
New and improved to fit all waists with Miricle Middle™ stretch panel.  The most versatile baby product you can buy. 
It's the correct position for the most comfortable feeding. That must be why Mom and Dad are smiling.
I'm still a little wobbly on this sitting thing, I can use a little support.
Propping me up after feeding reduces reflux. And that's good, because reflux makes me cranky.
Tummy time strengthens my muscles and coordination. Let's do some reps.
Every Boppy slipcover is machine washable and fits every Boppy pillow. It will be easy for my Mom to keep things clean 'cause you know, I do spit up a lot.
Dress up your Boppy Bare Naked pillow with a couple of our great Boppy slipcovers.
Made in China.
Do not allow baby to lie face down on this Boppy pillow. Do not use in bed or crib, use only on floor.
Do not leave baby unattended. Keep away from heat source and open flame.
Plastic bags can be very dangerous. To avoid danger of suffocation, keep this bag away from babies and children.  This bag is not a toy.
* These statements have not been evaluated by the Food and Drug Administration. This product is not intended to diagnose, treat, cure, or prevent any disease.