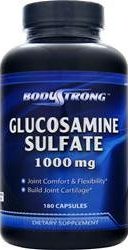 BODYSTRONG Glucosamine Sulfate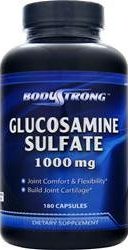 BODYSTRONG Glucosamine Sulfate
Glucosamine Sulfate (1000mg) Overview
Glucosamine is a natural amino sugar with joint healing and strengthening properties. BodyStrong Glucosamine is an all-natural supplement that is used to rebuild joint cartilage, protect joints from daily wear and tear, and help alleviate arthritis pain. If you're experiencing joint pain or chronic inflammation, taking a premium glucosamine supplement like the one offered by BodyStrong can truly help. *

Glucosamine for Joint Health and Mobility

Healthy and mobile joints are both important and rare in the world of bodybuilding, sports and everyday living. Joint function diminishes with age. Bodybuilders, putting their joints under constant stress from heavy weightlifting, speed up the process of joint wear and tear. Glucosamine supplementation protects joints by pulling extra water into connective tissues, acting like a cushion against the constant wear and tear of joints. In this respect, glucosamine acts like a sponge and "shock absorber" for your joints. The extra water acts as a lubricant on a ball bearing and reduces the friction at the connection points of the bones, increasing strength and elasticity. Greater joint elasticity translates into greater range of motion. *

Glucosamine Reduces Joint Inflammation

Chronic inflammation of the joints is a serious problem, exacerbated by over training, heavy lifting, aging, and poor diet among many other factors. Glucosamine has been observed to protect joints from unhealthy inflammation by improving blood flow around the joints. Glucosamine works to keep this inflammation in the healthy range, facilitating recovery from workouts and promoting the structural integrity of joints and bone. *

Remember how glucosamine helps bring extra water into joints? That extra water acts as a buffer for the constant friction of the joints from walking, running, lifting, and all movements in general. Glucosamine in the body is comparable to oil in a car engine. The oil (glucosamine) lubricates the engine (joints) to decrease friction and ensure that the gears and pistons (muscles and ligaments) operate smoothly. Glucosamine is premium grade oil for your joints. BodyStrong's glucosamine works to restore function to damaged joints and continued use can prevent new inflammation and keep joints healthy and strong. *

BodyStrong Glucosamine Benefits

-Strengthens Joints & Cartilage*
-Reduces Joint Inflammation*
-Improves Joint Mobility & Flexibility*
-Improves Arthritis Pain*

* These statements have not been evaluated by the FDA. This product is not intended to diagnose, treat, cure or prevent any diseases.
Glucosamine Sulfate (1000mg) Description from BODYSTRONG
Glucosamine Sulfate is a key building block for healthy joints and connective tissues. Studies have shown that Glucosamine Sulfate can help rebuild cartilage as well as help strengthen, nourish and lubricate joints.
Supplement Facts
Service Size: 1 capsule
Servings Per Container: 360
Ingredient
Amount
% Daily Value**
Glucosamine Sulfate - 2KCl
1000mg
** Percent Daily Value is based on a 2000 calorie diet. Your daily values may be higher or lower depending on your calorie needs.
† Daily Value not established.

Ingredients:
Other ingredients: gelatin, vegetable magnesium stearate, silica.
Manufacturer's Directions
Adults, take one (1) capsule 2 times a day, preferably with a meal.
Manufacturer's Disclaimer
Contains shellfish (shrimp, crab, lobster, crayfish)

Warning: If you are pregnant, nursing or taking any prescription medication or planning any medical procedure, consult your doctor before use. Discontinue use and consult your doctor if any adverse reactions occur. Keep out of reach of children.