Warning: This product is not currently available at any store.
Click the button above and PricePlow will email you when the first store has it in stock!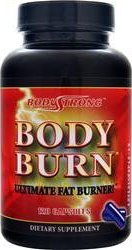 Body Burn - The Ultimate Fat BurnerOverview
Body Burn - The Ultimate Fat Burner from BODYSTRONG
Body Burn – Lose FAT, not just weight!

The team at BodyStrong designed Body Burn with dedicated bodybuilders and athletes in mind. We're not talking about your average gym goers here, we're talking about those who train in pursuit of perfection, those who make bold sacrifices in order to look their best, not those who train to live, but live to train – You get the idea.*

If you've done your research, you know that many other fat burners on the market are jazzed up with glitzy labels and marketing campaigns, but fail to deliver on what they promise. They often boast heavy price tags and offer little more than mere milligrams of potent product. Instead, they hide behind the mask of their five or more trademarked "blends within a blend." Too often, people fall into the trap of automatically associating high price with quality. Body Burn stands alone because it contains only the ingredients that work, without all the fancy fillers, additives, and mysterious, un-researched herbs that you've never heard of. Simply put, with Body Burn you'll get a product that is efficacious, effective, and inexpensive.*

Just as important as losing fat is the act of maintaining hard-earned muscle when dieting. With all the information available today, if you're losing muscle while cutting, you're the exception my friend, not the rule. We firmly believe that losing muscle does not have to accompany fat loss. That's why Body Burn contains scientifically researched ingredients that have been shown to heighten muscular contractions during exercise, supporting the preservation of valuable lean muscle tissue while tearing through unwanted body fat. Additionally, our unique blend is designed to target unwanted subcutaneous fat by increasing blood flow to stubborn areas of the body, such as the lower back and abdominal areas. Combined with a healthy diet, this increase in blood flow will also promote enhanced nutrient uptake and utilization by muscle cells.

All right, all right, so what exactly makes Body Burn so special and effective that it stands alone amongst the masses? We believe it's our distinguished 4-pronged approach to incinerating body fat and optimizing aesthetics. Each ingredient in Body Burn was carefully researched and selected to compose our synergistic 4-pronged approach to melting away body fat. Read on, my friend.*

Body Burn's unique 4-pronged approach for a lean physique:

1. Amplified Thermogenesis: This mix combines Caffeine, Green Tea Extract, and Citrus Aurantium Extract in a beautiful harmony of energy-inducing mayhem. Not only does Caffeine boost energy levels, but it also serves as a Central Nervous System (CNS) stimulant, serving to heighten muscular contractions and improve the mind-body connection. Green Tea is a natural source of caffeine, also providing the powerful catechin EGCG, which has been shown to reduce body fat in conjunction with caffeine. Citrus Aurantium Extract contains a potent chemical known as synephrine, which studies show produces accelerated fat loss without harmful side effects. And if that's not enough, we've also combined 1,3-Dimethylamylamine HCL in the mix, a component of geranium oil similar to the body's naturally produced adrenaline. 1,3-Dimethylamylamine stimulates the CNS, jacking up energy, increasing focus, and improving athletic performance. Fat is burned from the immediate rise in cAMP, the chemical messenger responsible for triggering fat release.*

2. Appetite Reduction: Zingerone and Yohimbe HCL are combined to provide the perfect degree of appetite suppression. Zingerone is a vanilloid receptor agonist that prompts the release of the neurotransmitter norepinephrine. Norepinephrine augments brain function and energy levels while suppressing appetite. It also stimulates the CNS and increases metabolic rate and lipolysis (i.e. fat loss). Yohimbe HCL works as an alpha-2 receptor antagonist, and these receptors just so happen to be found in the highest concentrations in abdominal fat in men. Additionally, Yohimbe HCL works to suppress appetite and decrease total energy intake.*

3. Intensified Mood & Focus: In order to keep your focus razor sharp, we've combined Taurine, N-Acetyl Tyrosine, and B-Phenylethylamine HCL to create a feel-good blend of ultra concentrated brain candy. This combination has been observed to have nootropic-like properties, perfect for the intense concentration needed while hitting the gym hard.*

4. Decreased Water Retention: This is the final stage of looking good naked. Holding excess water can be a bodybuilder's worst nightmare, making them look bloated and sick. That's why we've added Kelp to the mix, a natural diuretic that rids the body of excess water. Kelp also supports thyroid function, which is necessary in maintaining an optimal metabolism.*

By combining these four crucial elements of physique perfection, Body Burn is able to ignite your body's natural fat burning mechanisms on fire while providing you the mentality needed to edge out those extra reps and stay in the gym longer. That's why Body Burn is the last word is burning fat.

* These statements have not been evaluated by the FDA. This product is not intended to diagnose, treat, cure or prevent any diseases.
Body Burn - The Ultimate Fat BurnerDescriptionfromBODYSTRONG
Body Burn Ultimate Fat Burner

A scientific blend of potent herbal derivatives makes Body Burn the most intense fat loss product available today. Body Burn speeds up your metabolism, attacks stored body fat, controls your appetite, and elevates your mood. Body Burn is the last word in fat burning.
Supplement Facts
Service Size: 2 capsules
Servings Per Container: 1
Ingredient
Amount
% Daily Value**
Body Burn Proprietary Blend
1449.5mg
-Taurine
-N-Acetyl Tyrosine
-Green Tea Extract
-Caffeine
-B-Phenylethylamine HCl
-Kelp
-Citrus Aurantium Extract
-1,3, Dimethylamylamine HCl
-Zingerone
-Yohimbine HCl
** Percent Daily Value is based on a 2000 calorie diet. Your daily values may be higher or lower depending on your calorie needs.
† Daily Value not established.

Ingredients:
Gelatin, Magnesium Stearate, Titanium Dioxide and FD&C Blue#1
Manufacturer's Directions
Adults, take two (2) capsules two times daily, approximately 30 minutes before a meal. Never take within 6 hours of desired sleep.
Manufacturer's Disclaimer
This product contains Yohimbine and Caffeine. Never exceed recommended maximum dosage. Do not consume synephrine, caffeine or thyroid-boosting compounds from other sources, including but not limited to, coffee, tea, soda and other dietary supplements or medications containing phenylephine or caffeine or any stimulants whatsoever.