Quick Links to Best Prices Price History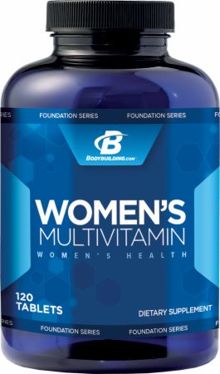 Bodybuilding.com Women's Multivitamin
Women's
MultiVitamin
350
MG of
Calcium
100
percent dv
vitamin & Minerals
10
MG of
Citrushield
Multi Micro: Cover your micronutrient bases and ensure you don't have any vitamin/mineral deficiencies with the Foundation Series Women's Multivitamin!
Beyond the Basics: In addition to its micronutrient profile, the Foundation Series Women's Multivitamin contains botanicals, antioxidants, and other gender-focused components.*
Product Details:
A multivitamin is one of the best supplement investments you can make to support diet, overall health, and even your exercise or athletic performance.* The Foundation Series Women's Multivitamin encourages body-function efficiency and fills micronutrient gaps left by your diet.* Deficiency in any one vitamin can affect a number of body functions, making a multivitamin important to covering your micronutrient bases.*
In addition to its stellar micronutrient profile, the Foundation Series Women's Multivitamin has been designed as a comprehensive multi-nutrient complete with botanicals, antioxidants, and other gender-focused components.*
Foundation Series Women's Multivitamin: multiple micronutrients, multiple benefits.*
SPORTS NUTRITION
Here at , our goal is to help people like you meet your health, fitness and appearance goals through information, motivation and supplementation. We want you to have every possible tool at your disposal, so we constantly add more articles, videos, workouts, diet plans and transformation stories to our website. We've also developed a full line of our own nutritional supplements that—when combined with the right workout and nutrition program—will help you reach your goals. All products have been formulated to the highest standards with high-quality, effective ingredients that produce real results. If you aren't completely satisfied with any product, return it any time for a full refund.