Warning: This product is not currently available at any store.
Click the button above and PricePlow will email you when the first store has it in stock!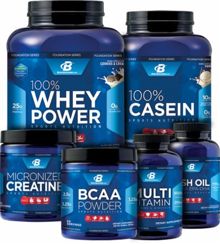 Bodybuilding.com Ultimate Stack
LET THE GAINS BEGIN
This is it: the mother of all stacks. It doesn't get bigger, it doesn't get better, but it will help you do both. The Platinum Ultimate Stack combines a top-notch multi-nutrient complex, natural test booster, powerful fat burner, multi-source protein powder, BCAA recovery mix, and a potent pre-workout supplement to give you the best possible results—period.* Prepare to hit your workouts harder, recover faster, shred fat, pack on muscle, and build your peak physique.* This stack will transform you.* You've been warned.
ALPHA PROTOCOL

INCINER-8

SCREAM

PROTOGEN

AMINO RECOVERY

MULTICORE

Take one serving (3 capsules) in the morning. Take an additional serving (3 capsules) before bedtime.

Take one serving (3 capsules) in the morning. Take an additional serving (3 capsules) in the early afternoon.

Take 1 scoop 30-45 minutes before training.

Take 1 scoop immediately following training.

Take 1 scoop and sip throughout your workout.

As a daily foundational supplement, take one packet upon waking with breakfast.

Increase Free Testosterone & Unbind Bound Testosterone*
Improve Sports Performance*
Support a Healthy Libido*
Increase Muscle Growth & Strength*
Decrease Body Fat*
Inhibit SHBG*

Increase Fat Loss*
Maintain Muscle Mass*
Increase Energy & Focus*
Boost Metabolism*
Support a Healthy Appetite Level*

Focus and Energy*
Nitric Oxide (NO) Pump*
Power and Strength*
Improve Recovery*
Optimize Endurance*
Improved Hydration*

Improve Post-Workout Recovery*
Boost Nitrogen Levels*
Improve Amino Acids Absorption*
Quick and Sustained Amino Acid Concentration*

Improve Endurance*
Increase Performance*
Increase Protein Synthesis*
Improve Blood Flow*
Optimize Workout Recovery*

Nutritional Coverage*
Antioxidant Support*
Pre- & Pro- Biotics for Healthy Digestion*
Omega 3's to Support Heart and Brain Health*
Vitamin D for Bone Health and Immune Support*
Platinum Series SCREAM
Scream is a correction to under-dosed, over-stimulated pre-workout products built on proprietary blends and buzzwords. Scream isn't "ultra-concentrated;" it's effective. It fuels your workouts with nothing less than full, clinically-tested doses of the best available ingredients. Scream offers more than energy; it hits your body with the nutrients needed to support every workout and maximize your results.*
Platinum Series ALPHA PROTOCOL
Alpha Protocol is a premium natural testosterone booster built to supercharge your libido, help you build muscle, boost your ability to recover, and increase free testosterone.* It is the alpha test booster, leading the way with cutting-edge science, patented ingredients, and an innovative formulation.
Platinum Series AMINO RECOVERY
Amino acids are the building blocks of protein, which is the macronutrient responsible for making muscle. Thus, amino acids are essential ingredients in any muscle-making recipe. Luckily, there's no need to hit the store: Amino Recovery has got you covered.
Platinum Series INCINER-8
Unlike most fat-loss products that are over-stimulated and don't contain the right ingredients in the correct amounts to actually torch fat, Inciner-8's formula is based on published studies, and it contains correct dosages of each carefully chosen ingredient. Inciner-8 is a premium fat-loss product that can help rev up your metabolism to help you sculpt your 8-pack while sparing your hard-earned muscle.*
Platinum Series MULTICORE
You know that a complete, well-balanced diet rich in fruits, vegetables, lean meats, complex carbohydrates, good fats, vitamins, minerals and antioxidants is a solid foundation for optimal health and performance. To ensure you fuel your body properly, we developed Multicore. Multicore is a premium performance multivitamin.* It provides a safety net when your nutrition is less than perfect, and it maximizes your hard work in the gym with a comprehensive blend of 23 vitamins and minerals.
Platinum Series PROTOGEN
Protogen contains 4 ultra-premium protein sources and clinically-proven Aminogen, a revolutionary patented enzyme system that helps your body break down and digest protein faster and much more efficiently.* Aminogen helps maximize the amount of amino acids released from protein in foods and supplements, allowing you to absorb more muscle-building amino acids.*