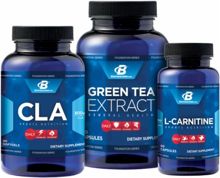 Bodybuilding.com Shredded Stack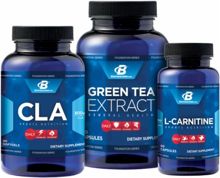 Bodybuilding.com Shredded Stack
THE SCIENCE OF SHRED
Our science-backed, synergistic Shredded Stack will help you incinerate unwanted pounds while increasing muscle mass and definition.* Scream boosts your workouts, Inciner-8 torches your body fat, Protogen promotions muscle growth, and Amino Recovery supports repair.* Everything works together to transform your physique.* If you're willing to work, we'll help you win. Burn, baby, burn.
INCINER-8

SCREAM

AMINO RECOVERY

PROTOGEN

Take one serving (3 capsules) in the morning. Take an additional serving (3 capsules) in the early afternoon.

Take 1 scoop 30-45 minutes before training.

Take 1 scoop and sip throughout your workout.

Take 1 scoop immediately following training.

Increase Fat Loss*
Maintain Muscle Mass*
Increase Energy & Focus*
Boost Metabolism*
Support a Healthy Appetite Level*

Focus and Energy*
Nitric Oxide (NO) Pump*
Power and Strength*
Improve Recovery*
Optimize Endurance*
Improved Hydration*

Improve Endurance*
Increase Performance*
Increase Protein Synthesis*
Improve Blood Flow*
Optimize Workout Recovery*

Improve Post-Workout Recovery*
Boost Nitrogen Levels*
Improve Amino Acids Absorption*
Quick and Sustained Amino Acid Concentration*
Bodybuilding.com Platinum Series SCREAM
Scream is a correction to under-dosed, over-stimulated pre-workout products built on proprietary blends and buzzwords. Scream isn't "ultra-concentrated;" it's effective. It fuels your workouts with nothing less than full, clinically-tested doses of the best available ingredients. Scream offers more than energy; it hits your body with the nutrients needed to support every workout and maximize your results.*
---
Bodybuilding.com Platinum Series AMINO RECOVERY
Amino acids are the building blocks of protein, which is the macronutrient responsible for making muscle. Thus, amino acids are essential ingredients in any muscle-making recipe. Luckily, there's no need to hit the store: Amino Recovery has got you covered.
---
Bodybuilding.com Platinum Series INCINER-8
Unlike most fat-loss products that are over-stimulated and don't contain the right ingredients in the correct amounts to actually torch fat, Inciner-8's formula is based on published studies, and it contains correct dosages of each carefully chosen ingredient. Inciner-8 is a premium fat-loss product that can help rev up your metabolism to help you sculpt your 8-pack while sparing your hard-earned muscle.*
---
Bodybuilding.com Platinum Series PROTOGEN
Protogen contains 4 ultra-premium protein sources and clinically-proven Aminogen®, a revolutionary patented enzyme system that helps your body break down and digest protein faster and much more efficiently.* Aminogen® helps maximize the amount of amino acids released from protein in foods and supplements, allowing you to absorb more muscle-building amino acids.*