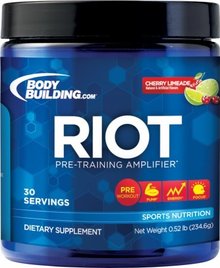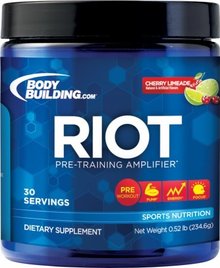 Pre-training Amplifier
Riot
4
Grams of
Citrulline
malate
3.2
Grams of
Beta-
Alanine
1.5
grams of
Creatine
hcl
Explosive energy and focus
Dual action skin splitting pump matrix: Citrulline Malate + Agmatine Sulfate
Mixes easily and tastes incredible
Product Details:
A house is only as strong as its foundation, and the same goes for your nutrition and performance. There are numerous vitamins and minerals in the foods we ingest, each with specific functions and roles, but it's incredibly difficult to keep track of vitamin and mineral intake day after day.
A multivitamin is one of the best supplement investments you can make to support diet, overall health, and even your exercise or athletic performance.* The Multivitamin encourages body-function efficiency and fills micronutrient gaps left by your diet.* Deficiency in any one vitamin can affect a suite of body functions, making a multivitamin important to covering your micronutrient bases.*
In addition to its stellar micronutrient profile, the Multivitamin contains BCAAs, AAKG, and herbal extracts to support performance and vitality.*
Multivitamin: multiple micronutrients, multiple benefits.*
SPORTS NUTRITION
Here at , our goal is to help people like you meet your health, fitness and appearance goals through information, motivation and supplementation. We want you to have every possible tool at your disposal, so we constantly add more articles, videos, workouts, diet plans and transformation stories to our website. We've also developed a full line of our own nutritional supplements that—when combined with the right workout and nutrition program—will help you reach your goals. All products have been formulated to the highest standards with high-quality, effective ingredients that produce real results. If you aren't completely satisfied with any product, return it any time for a full refund.