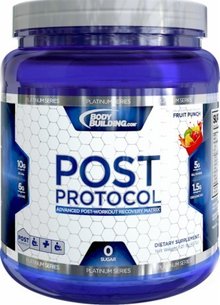 Bodybuilding.com Post Protocol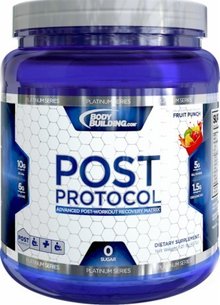 Bodybuilding.com Post Protocol
10g
BCAAs
6g
Leucine
5g
Glutamine
1.5g
Creatine
0
Sugar
Recover. Repair. Rebuild.*
Post Protocol has been formulated to support muscle recovery, allowing you to get back in the gym faster than ever.* With dosages of highly targeted ingredients, you get everything you need and nothing you don't.
MEGA-DOSED FOR MEGA-RECOVERY WITH 10 GRAMS OF BCAAS*
Post Protocol contains a 3:1:1 blend of branched-chain amino acids (BCAAs), arguably the 3 most important aminos for muscle recovery, repair, and growth support.* Post Protocol supports the decrease muscle soreness, which is vital for maximizing results.*
BCAAs provide metabolic energy while you train, and they serve an important function in muscle growth. Leucine in particular has been suggested to play the most critical role in stimulating muscle-protein synthesis through multiple mechanisms of action, including the stimulation of protein-synthesis regulators like mTor and P13K.*
RECOVERY WITH GLUTAMINE*
Post Protocol also contains free-form glutamine, an amino acid that can reduce muscle breakdown and help support healthy immune system function.*
Glutamine is the most abundant amino acid in the body, comprising more than 60% of the free amino acid pool in skeletal muscle and greater than 20% of total circulating amino acids.
WHAT YOU CAN EXPECT BY USING CARNIPURE
(L-CARNITINE L-TARTRATE):
May help promote fat loss by encouraging the conversion of fatty acids into fuel.*
By helping the body use fat as fuel, carnitine supports energy levels and encourages a positive environment for lean mass development.*
EXERCISE AND RECOVERY
Studies suggest that Carnipure supplementation supports recovery after exercise.* Researchers observed a decrease in the production of free radicals, less tissue damage, and reduced muscle soreness after exercise in recreationally-trained athletes following 3 weeks of Carnipure supplementation. These effects were found to be dose dependent, present both in young and old, male and female subjects. Supplementation with Carnipure induces an increase in muscle oxygen consumption, providing a potential mechanism for reduced hypoxic stress following resistance exercise.*
As a consequence, L-Carnitine L-Tartrate may support testosterone uptake via less muscle damage and increased availability of androgen receptors, and not via direct stimulation of testosterone secretion (in other words, LCLT is not a testosterone-enhancing supplement).*
L-Carnitine's role in exercise recovery*
CREATINE HCL
Creatine HCL - the next-generation creatine. Creatine Hydrochloride, or simply Creatine HCL, is creatine attached to hydrochloric acid. Due to its rate of absorption, Creatine HCL allows for smaller dosing. It also prevents the stomach discomfort and water retention under the skin experienced by some users of creatine monohydrate*.
KSM-66 ASHWAGANDHA
Ashwagandha has been suggested to:
Supports exercise endurance*
Supports the building of strength*
Recent scientific research suggests that ashwagandha promotes health, well being and levels of exercise performance.
TASTE THE DIFFERENCE
All of the recovery nutrition found in Post Protocol is useless if you can't bear to drink it. With all the ingredients included in Post Protocol, it was not easy to flavor. We partnered with the industry's leading flavor houses to create an amazing taste, and we weren't satisfied until we got it just right. You'll love the flavor and how easily Post Protocol mixes.
100% SATISFACTION GUARANTEE
Post Protocol is backed by 's 100% money-back guarantee. We know that Post Protocol is the best post-workout supplement on the market. If you don't agree with us, just return your bottle, and we will give you your money back. It's as simple as that.