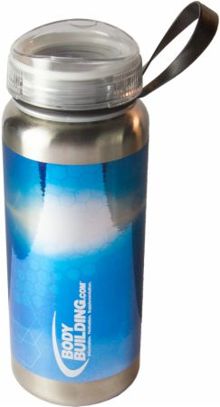 Bodybuilding.com Polar Bottle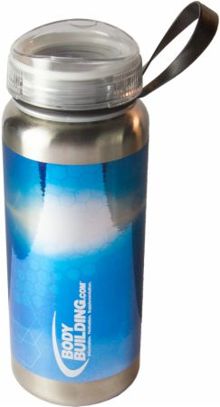 Bodybuilding.com Polar Bottle
Keep Your Drinks Colder, Longer!
Combining the thermal properties of an insulated vacuum bottle with the lightweight, flexible features of a plastic bottle, the Polar Bottle is the ideal choice for active people. Simply fill with liquid and ice and hit the trail. For even longer cooling power, fill your Polar Bottle and store it in the freezer before use. Either way, it will keep liquids cold twice as long as conventional water bottles.
Made in the USA
The Polar Bottle has a removable valve system in the cap, sleek body design, a carrying strap, and a signature colored liner. Polar Bottle is extremely proud to be a company that supports local and national economies by employing local workers to create an American product. Their products are assembled in and shipped from a warehouse in Boulder, Colorado. The bottles are made from parts sourced in the USA. We take great pride in offering an American-made product.
BPA Free
Polar Bottle products are constructed with plastics that do not contain BPA or any other leaching chemicals, like Phthalates. The body is made of Low-Density Polyethylene (LDPE #4) and the cap of High-Density Polyethylene (HDPE), and the valves are urethane.
Environmentally Friendly
Reusable water bottles are of the utmost importance in an age when single-use PET bottles (your standard bottled water or soda bottle) are being thrown away or littered nearly 3 times as often as they are recycled. This adds up to approximately 2 million tons of PET bottles finding their way into landfills every year. Americans currently consume an average of more than 25 gallons of bottled water every year, per person. That means that each of us uses about 266 12-ounce PET bottles annually. Wouldn't you rather enjoy your water from a single reusable Polar Bottle for the next 10 years than crack open 2660 disposable bottles?
Our Guarantee
We take great pride in the quality of each and every Polar Bottle water bottle we produce and distribute from our Boulder, Colorado warehouse. Every bottle goes through several levels of quality control before it is shipped out and the bottle is designed to last for years. That being said, we understand that things happen; bottles can break or customers might simply be unsatisfied with their purchase. With this in mind, we offer an unconditional lifetime guarantee on all of our products. If anything ever happens to your bottle or you are otherwise unhappy with the product, give us a call or drop us an email at our website polarbottle.com and we will take care of you. Guaranteed.
Questions? Simply call us (local) 303-440-0358 or Toll Free 800-440-0358
Free Cap Replacement
We understand that caps can get lost or damaged and we would hate for a bottle to go to waste just because of the cap, which is why our unconditional lifetime guarantee extends to our caps as well. If you're ever in need of a new cap, simply visit our website at polarbottle.com and contact us through phone or email so we can send you a free cap replacement. You never pay a dime.