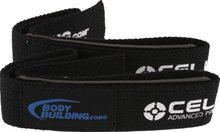 Bodybuilding.com Neoprene Padded Pro Lifting Straps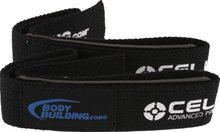 Bodybuilding.com Neoprene Padded Pro Lifting Straps
It's about time you break your personal records! No more using your weak grip or fatigued fingers as excuses. The Neoprene Padded Lifting Straps will give you the necessary support for heavy lifting. Using these comfortable neoprene-padded straps helps maintain a secure grip and increases your lift capacity. These straps are made of the highest quality materials and produced through military-grade construction for lasting durability.
Taking advantage of the wrist support will allow you to target muscle groups more efficiently without grip failure.
Constructed with heavy cotton webbing
Reinforced stitching withstands robust usage
Neoprene padding adds reinforcement and comfort
Straps are adjustable to accommodate most sizes
Additional Images:
Click to Enlarge
To use: Insert end of strap through loop. Pull loop around wrist with remaining length of strap facing palm. Wrap end of strap around bar, grip strap firmly to maximize stability.