Warning: This product is not currently available at any store.
Click the button above and PricePlow will email you when the first store has it in stock!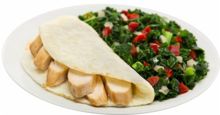 Bodybuilding.com High-Protein Egg White Omelets
New and Improved!
The End of Breakfast prep
Macro-perfect Omelets delivered to your door
Thanks to your feedback, Fuel now features lower prices, larger portions of the high-quality foods you love, clean and delicious seasonings, and simplified ordering.
This is Your Day: Fuel It!
Jumpstart muscle building and metabolism with protein-rich egg whites and white chicken meat.
Oatmeal's complex carbs digest slowly to keep you feeling full and energize your day.
Eat your veggies! Kale, peppers, and onions are full of fiber, vitamins and minerals.
Menu
Egg White Omelet, Chicken & Vegetables
36G Protein
10G Carbs
3G Fats
220 Calories
Egg White Omelet, Chicken & Oatmeal
37G Protein
28G Carbs
4.5G Fats
320 Calories
The Perfect Transformation Food
Say Good-Bye to Hours of Meal Prep
Save time and energy. This is the end of all those hours you spend shopping for, cooking, and portioning clean, nutritions meals. These healthy frozen meals are delivered to your door and cook in no time.
Simple, Whole food ingredients
and no preservatives
Sample Fuel Meal
Chicken Breast, Water, Broccoli, Parboiled Long Grain Brown Rice, Dried Mushroom Extract (Mushrooms, Maltodextrin), Rice Starch, Lemon Juice, Garlic Powder, Onion Powder, Salt, White Pepper, Thyme, Pepper, Bay Leaf
Only 14 Ingredients
Sample Competitor's Meal
Broccoli, cooked mesquite chicken breast (boneless and skinless chicken breast with rib meat, water vegetable oil (canola oil, extra virgin olive oil), lime juice from concentrate (water concentrated lime juice, sodium benzoate, lime oil), seasoning (extrose, salt, corn oil, soy sauce (water, wheat, soybeans, salt), tomato puree, xanthin gum, locust gum, potato starch, extractives of paprika, natural flavoring, garlic powder, achiote paste (annatto seed, spices, vinegar, iodized salt, water, granulated garlic, cornmeal), soy lecithin, spices, carrageenan, sodium phosphates, mesquite smoke flavor.
Over 60 Ingredients
Ideal Balance of Premium Proteins,
Vegetables, and Carbs
The quality and macronutrient balance of Fuel far surpasses that of any frozen meal you'll find in your grocery store. Dig into whole chicken breasts, filets of fish, 95% lean burgers, and nutrient-packed veggies. Enjoy slow-burning carbs like steel-cut oats, brown rice, and sweet potatoes.
FAQ
Fuel Meals
1. What is Fuel?
Fuel is precision fitness nutrition to help you reach your training and appearance goals. Each nutrient-dense, low-sodium meal is delivered right to your door for ultimate convenience. These delicious and filling meals combine the ideal mix of the right macronutrients—including up to 41 grams of lean protein, low-glycemic complex carbohydrates, and healthy fats—to help you reach your fitness and appearance goals. Satisfy your athlete's appetite and power your performance with Fuel.
2. How was Fuel created?
Over the years, fans have told us time and again that the toughest part of living the fit life is the nutrition. What should they eat? How much should they eat? Who has time to cook and portion out a week's worth of meals every Sunday? offers tons of free nutrition advice, sample meal plans, and recipes, but we thought we could do an even better job of addressing the need for healthy, tasty, convenient meals that support your fitness goals. And so, Fuel was born.
3. What makes Fuel meals different from other frozen entrees?
There is no comparison. Fuel meals are made from premium ingredients, including top-quality vegetables, whole chicken breast, lean beef, and whole fillets of fish. Each meal is lightly seasoned, allowing you to add whatever you'd like. We never use mystery sauces, sodium-spiked spice blends, or ingredients you can't pronounce. Other frozen meals often contain massive amounts of sodium, dangerous trans fats, artificial and processed ingredients, and not nearly enough protein. Skimpy portion sizes aren't enough to fuel an active lifestyle.
4. Are Fuel meals natural?
Yes. Fuel meals are made with natural, high-quality, whole-food ingredients. They contain no artificial flavors or colors, and no preservatives.
5. How are the meals prepared?
Only top quality whole food ingredients go into our meals. With high protein, low sodium, low-glycemic carbs, and healthy fats, Fuel is designed for the elite athlete's nutritional standards. Each meal is hand weighed and portioned for specific nutritional compositions. With natural ingredients and no preservatives, Fuel is Trainer Approved to help you reach your goals.
6. Are these meals compatible with fitness programs?
Yes, Fuel is compatible with the meal plans included in our fitness programs. They have been approved by Jim Stoppani, Jamie Eason, and other program creators.
7. Can I use these meals even if I am not doing a training program or transformation challenge?
Yes! Fuel is clean, healthful food for anyone who is working to build muscle, lose fat, or simply wants quality, tasty, convenient meal options.
Orders
1. How do I place an order for Fuel?
Fuel is sold in quantities of 12 meals, which we call stacks. You can order a stack of 12 of the same meal or create a stack of 12 different meals – whatever appeals to your taste buds. Ordering multiple stacks is easy: The more you order the more you save!
Option 1: Just change the quantity in the shopping cart. this is the fastest method if you've made the perfect stack of 12 meals and want to order multiples of the same stack.
Quantity: 1 --> 12 Meals
Quantity: 3 --> 36 Meals
Option 2: Go through the meal selection process again. If you've added your first stack of 12 meals to your cart and want to order a second stack with different meals, just choose 12 more and add them to your cart.
2. How Much will I save if I order multiple stacks of 12 meals?
Quantity
Cost
Savings
1 stack (12 meals)
$99.86
2 stacks (24 meals)
$179.72
$20.00
3 stacks (36 meals)
$269.58
$30.00
4 stacks (48meals)
$359.44
$40.00
Cooking
1. What if my food is not fully cooked, and I already have the meal on a plate?
To finish cooking the meal properly, wrap your plate in plastic wrap or cover with parchment paper and cook 1-2 more minutes at a time until the meal reaches 160°F.
2. Can I thaw the meal before eating?
Yes, place your meal in the refrigerator overnight. On the following day, cook in a microwave or conventional oven. Reduce cooking time by half or cook to 160°F internal temperature. Do not store at room temperature. Keep meals frozen until ready to use for proper shelf life.
3. Do I have to cook the meal in a microwave?
You can choose to cook your meals in a conventional oven. Follow the appropriate cooking instructions on the package.
4. Are the results different if I prepare Fuel meals in the microwave vs. a conventional oven?
Your meal will be equally delicious either way.
5. My meal seems undercooked or overcooked. What should I do?
We tested Fuel meals using an 1100-watt microwave. If your microwave wattage is higher or lower than this, increase or decrease cooking time by one-minute intervals or until internal temperature reaches 160°F.
6. How long will my meals last in my freezer?
Each meal has a lot number and expiration date. Meals can be kept frozen for up to 12 months. For maximum shelf life, keep meals frozen until ready to use.
7. My food is thawed. Is it still safe to eat?
Please refer to the Frozen Food guidelines at http://www.foodsafety.gov/keep/charts/frozen_food.html.
Shipping
1. How are the meals shipped?
For FREE! All orders are packed in premium, reusable Styrofoam coolers and shipped on dry ice. We recommend clearing out space in your freezer after placing your order so that you have room for your new delivery. Fuel meals are only shipped to the lower 48 states. Please refer to the transit map under question #3 for additional details.
2. Where are Fuel meals available?
Fuel meals are shipped to the lower 48 states only.
3. When will I receive my order?
Two-day delivery applies to you UNLESS you order after 9:30 CST (except holidays), at which point your order will ship the following day. We'll even send you a text message when your order has been shipped, so you can plan for the arrival of your meals!
BLACK = 1 DAY DELIVERY ZONE ORDER BETWEEN MONDAY 12AM CT AND THURSDAY 9:00AM CT FOR 1 DAY DELIVERY
*Orders placed before 9:00AM CT, Monday to Thursday (except holidays), will begin to process the same day.
*Orders placed after 9:00AM CT, Thursday to Monday (except holidays), will begin to process the following Monday.
BLUE = 2 DAY DELIVERY ZONE ORDER BETWEEN MONDAY 12AM CT AND THURSDAY 9:00AM CT FOR 2 DAY DELIVERY
*Orders placed before 9:00AM CT, Monday to Thursday (except holidays), will begin to process the same day.
*Orders placed after 9:00AM CT, Thursday to Monday (except holidays), will begin to process the following Monday.
GREY = 2 DAY DELIVERY ZONE ORDER BETWEEN MONDAY 12AM CT AND WEDNESDAY 9:00AM CT FOR 2 DAY DELIVERY
*Orders placed before 9:00AM CT, Monday to Wednesday (except holidays), will begin to process the same day.
*Orders placed after 9:00AM CT, Wednesday to Monday (except holidays), will begin to process the following Monday.
4. What do I do when my order arrives?
Immediately unpack your meals into your freezer.**
**Caution - Do not touch ice without gloves. You may leave it inside the cooler. Place the cooler outside and it will evaporate harmlessly within 24 hours. If you wish to dispose of it sooner, using potholders or protective gloves, lift it from the cooler and place it outside in a closed trash container. Do not put in drinks, do not eat, do not inhale vapor, and do not touch to skin, mouth or eyes (such contact may cause severe burns). Do not put in air-tight containers, do not use or store in areas other than those which are open and well ventilated. Keep out of reach of children and pets.
5. What if I am not home when my order is delivered?
It is extremely important that you bring the cooler inside and store your food in the freezer immediately. Please plan accordingly so that your food doesn't sit outside for too long and thaw out. If you cannot be at home to receive your package arrange to have someone, perhaps a neighbor or friend, bring your package inside.
is not responsible for spoiled food after delivery. It is your responsibility to plan for the expected arrival time of your package and arrange for immediate freezing of meals.
6. Is the Styrofoam cooler recyclable?
Yes. The Styrofoam cooler is reusable and recyclable. For recycling centers in your area, go to: www.epspackaging.org