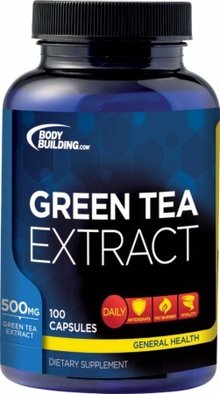 Bodybuilding.com Green Tea Extract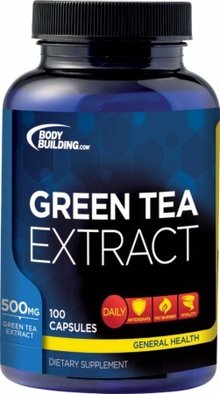 Bodybuilding.com Green Tea Extract
Extract Elixir: Green Tea Extract promotes fat loss, provides antioxidant support, and can help your body scavenge harmful free radicals.*†
Go Green: Because of Green Tea Extract's numerous benefits, everyone should consider using it to support their fitness, physique, and/or overall health goals!*
Product Details:
Green Tea is widely considered an A+ antioxidant due to its high concentration of polyphenols, which are compounds that help destroy potentially harmful free radicals.* Green Tea Extract is incredibly pure and powerful, providing 98% polyphenols for maximum antioxidant support.* Green tea extract may also help support normal, healthy immune function.*
Green Tea Extract contains 45% EGCG, a particular polyphenol that may promote fat loss and support weight management by increasing energy expenditure!* By increasing your overall metabolic rate, green tea can be used in combination with exercise to assist your fat-loss physique goals.* Green tea extracts also contain a small amount of natural caffeine, which can help increase energy.*
If you haven't already, it's time to go green. Burn fat and boost overall health with Green Tea Extract.*†
SPORTS NUTRITION
Here at , our goal is to help people like you meet your health, fitness and appearance goals through information, motivation and supplementation. We want you to have every possible tool at your disposal, so we constantly add more articles, videos, workouts, diet plans and transformation stories to our website. We've also developed a full line of our own nutritional supplements that—when combined with the right workout and nutrition program—will help you reach your goals. All products have been formulated to the highest standards with high-quality, effective ingredients that produce real results. If you aren't completely satisfied with any product, return it any time for a full refund.