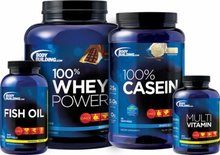 Bodybuilding.com Foundation Advanced Stack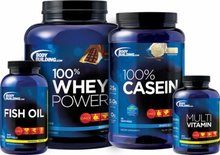 Bodybuilding.com Foundation Advanced Stack
Includes 100% Whey Power, 100% Casein, Multivitamin, and Fish Oil
100% Whey Power
Low-fat, low-cal and low-carb, 100% Whey Power is the perfect fuel for your health, fitness, and appearance goals.*
Best in its class, Whey Power is the whey of the future.
It's packed with 25 grams of pure transformation-making protein, an incredible amino acid profile for muscle recovery and repair, sensational flavor, and a scant amount of sugar.*
100% Casein
In case you're unfamiliar with casein's slow-flowing style, it's the go-to protein any time your muscles hunger for a long-lasting meal.
While whey is ideal post-workout because it digests quickly, casein digests slowly and is optimal between meals or before bed. During these crucial hours, casein is a great protein source for a slow-release amino stream. Guess what? Slow and steady wins the race.
Multivitamin
A multivitamin is one of the best supplement investments you can make to support diet, overall health, and even your exercise or athletic performance.* The Multivitamin encourages body-function efficiency and fills micronutrient gaps left by your diet.* Deficiency in any one vitamin can affect a suite of body functions, making a multivitamin important to covering your micronutrient bases.*
In addition to its stellar micronutrient profile, the Multivitamin contains BCAAs, AAKG, and herbal extracts to support performance and vitality.*
Fish Oil
When people say "fatten up," it's generally not considered a healthy suggestion. If you're talking about the Omega-3 essential fatty acids (EFAs) found in Fish Oil, however, it's some of the healthiest advice you can take.*