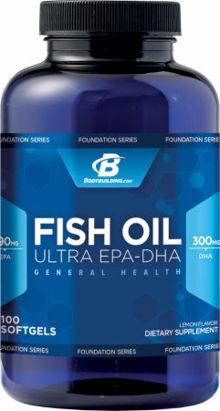 Bodybuilding.com Fish Oil Ultra EPA-DHA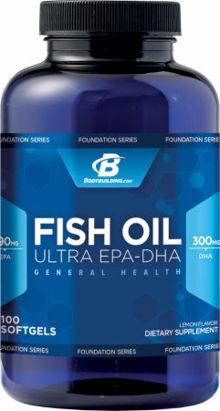 Bodybuilding.com Fish Oil Ultra EPA-DHA
Fish Oil
Ultra EPA-DHA
800
Milligrams
Omega-3
fatty acids
1250
Milligrams
total
fish oil
High EPA/DHA Formula: 800mg of fatty acids - including 390mg of EPA and 300mg of DHA. Fish oil supports normal, healthy immune function and supports heart, brain,and joint health!*
Lemon Flavor (No Fish Burps): High quality, purified fish oils with proprietary antioxidant blend with lemon flavor allows you to enjoy the benefits without awful tasting fish burps.*
Product Details:
When people say "fatten up," it's generally not considered a healthy suggestion. If you're talking about the Omega-3 essential fatty acids (EFAs) found in Fish Oil, however, it's some of the healthiest advice you can take.*
Omega-3 fats are termed "essential" because your body can't make them, so you must obtain them from food or supplements. Supplementing with fish oil may help:
Promote overall health and wellness*
Support heart, brain, and joint health.*
Because of its myriad benefits, consider Fish Oil – ULTRA EPA-DHA one of your foundational supplements. Use it whether you want to build muscle, improve exercise performance, or simply live a healthier lifestyle.*
Fish Oil: It's off the hook.