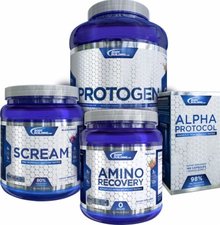 Bodybuilding.com Anabolic Stack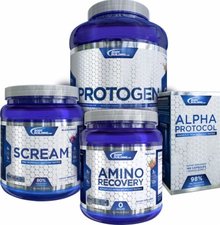 Bodybuilding.com Anabolic Stack
PROTOGEN
When it comes to building muscle, it's about more than what you eat: It's about what you absorb. Get ready to absorb 250% more key amino acids (BCAAs + Arginine and Glutamine) and boost your nitrogen retention by 32%. In short, get ready to make more muscle.*
Protogen contains 4 ultra-premium protein sources and clinically-tested Aminogen, a revolutionary patented enzyme system that helps your body break down and digest protein faster and much more efficiently.* Aminogen helps maximize the amount of amino acids released from protein in foods and supplements, allowing you to absorb more muscle-building amino acids.*
SCREAM
Every athlete has a pre-game ritual. Thunder has lightning. Now, workouts have Scream: a potent, scientifically advanced pre-workout supplement.
Scream is a correction to under-dosed, over-stimulated pre-workout products built on proprietary blends and buzzwords. Scream isn't "ultra-concentrated;" it's effective. It fuels your workouts with nothing less than full, clinically-tested doses of the best available ingredients. Scream offers more than energy; it hits your body with the nutrients needed to support every workout and maximize your results.*
AMINO RECOVERY
When it comes to building your best possible body, recovery is everything. When you're in the gym training to transform, you're actually breaking down muscle tissue, not building it. Without rest and the right nutrients, you can actually hurt your progress, not help it. As a result, proper workout recovery is essential to positive results!* Start Rebuilding With Amino Recovery!*
ALPHA PROTOCOL
Alpha Protocol is a premium natural testosterone booster built to support sexual health, help you build muscle, boost your ability to recover, and promote free testosterone levels.* It is the alpha test booster, leading the way with cutting-edge science, patented ingredients, and an innovative formulation.
Alpha Protocol contains 3 proven ingredients at full, clinical dosages:
D-Aspartic Acid
Testofen
LJ100