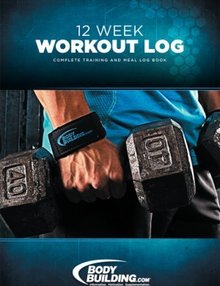 Bodybuilding.com 12 Week Workout Log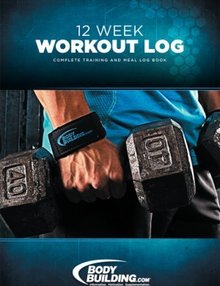 Bodybuilding.com 12 Week Workout Log
LOG YOUR WORKOUTS, TRACK YOUR PROGRESS, ACHIEVE YOUR GOALS
Accountability is the key to success. That's why it's important to track your progress while working toward your fitness goals. You can't escape what's written in black and white.
With 's comprehensive 12-Week Workout Log, you'll see the progress you're making in pounds lifted, cardio intensified, fat lost, and muscle gained. There's no better motivation than that!
Use Our 12-Week Workout Log To:
Log your workouts and track your progress across 84+ pages.
Jot down your meals to keep your nutrition dialed in.
Get delicious recipes for physique-friendly foods.
Learn about the supplements that could help boost your results.*
Find out how to get the most out of 's transformation tools.
Get motivated with inspirational stories of Bodyspace members that are changing their lives.
Are you ready to write your success story?