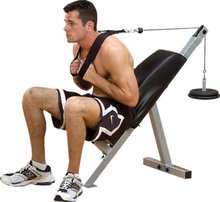 Body-Solid Powerline Ab Bench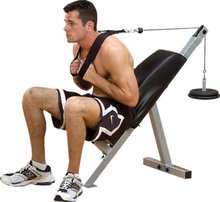 Body-Solid Powerline Ab Bench
IMPORTANT SHIPPING INFORMATION
Delivery in the Continental U.S. only. This item is ground shipped by the manufacturer and may take up to 14 days to reach its new home. Trust us - it's worth the wait!
You've never felt full abdominal range of motion like this. The new Leverage Ab Bench from Body-Solid delivers six-pack abs and well-developed obliques like no other machine! The specially designed curved back pad puts you into a deep pre-stretch position for exercise motion that ranges from 30º back of center to 30º front of center. The heavy-gauge 2" x 3" steel mainframe feature all-4-side welded construction for a rock-solid foundation. Extra-thick and durable DuraFirm™ back and seat pads deliver comfort and proper posture. Crunch your way to a flat stomach the smart way! The chrome weight carriage accepts Olympic plates for minimal to maximum resistance. Extra-wide, sealed ball bearing pulley allows complete freedom of movement for oblique workouts as well. Infinitely adjustable back pad ensures quick and easy adjustment for all size users. Excellent for triceps extensions too. Weight plates and collars optional.
Shipping Info:
Products are only available to be shipped within the USA. Freight shipment is determined by the size, count and weight of the box/boxes. UPS and FedEx Ground are used for smaller shipments and large shipments utilize LTL freight carriers. Body-Sold will use its discretion when making the decision as to how best to ship product.
Freight shipments are delivered curbside, consumer must be prepared to off load their ordered product, sign for and accept responsibility once in their possession.
Return Policy: All sales are final!
Warranty Agreement
This Warranty applies only in the United States to products manufactured or distributed by Power-Line (Power-Line) under the Power-Line brand name. The warranty period to the original purchaser is:
10 Years on the Frame
1 Year on All Parts.
Power-Line warrants that the Product you have purchased for non-commercial, personal, family, or household use from Power-Line or from an authorized Power-Line reseller is free from defects in materials or workmanship under normal use during the warranty period.
Your sales receipt, showing the date of purchase of the Product, is your proof of the date of purchase.
This warranty extends only to you, the original purchaser. It is not transferable to anyone who subsequently purchases the Product from you.
It excludes expendable parts such as paint and finish.
This Warranty becomes VALID ONLY if the Product is assembled / installed according to the instructions / directions included with the Product.
During the warranty period Power-Line will at no additional charge, repair or replace (at Power-Line's option) the Product if it becomes defective, malfunctions, or otherwise fails to conform with this Warranty under normal non-commercial, personal, family, or household use. In repairing the product Power-Line may replace defective parts or, at the option of Power-Line, serviceable used parts that are equivalent to new parts in performance. All exchanged parts and Products replaced under this warranty will become the property of Power-Linc.Power-Line reserves the right to change manufacturers of any part to cover any existing warranty.
Warranty Service
To obtain warranty service, you must return the Product to Power-Line in its original container (or equivalent). You must pre-pay any shipping charges, export taxes, customs duties and taxes, or any other charges associated with transportation of the Product. In addition, you are responsible for insuring any Product shipped or returned. You assume the risk of loss during shipment. You must present Power-Line with proof-of- purchase documents (including the date of purchase). Any evidence of alteration, erasing or forgery of procf-of-purchase documents will be cause to void this Warranty.
This Warranty does not extend to any Product not purchased from Power-Line or from an authorized Power-Line reseller. This Warranty does not extend to any Product that has been damaged or rendered defective; (a) as a result of accident, misuse, or abuse; (b) by the use of parts not manufactured or sold by Power-Line; (c) by modification of the Product; (d) as a result of service by anyone other than Power-Line, or an authorized Power-Line warranty service provider. Should any product submitted for Warranty service be found to be ineligible, an estimate of repair cost will be furnished and the repair will be made if requested by you upon Power-Line's receipt of payment or acceptable arrangement of payment.
EXCEPT AS EXPRESSLY SET FORTH IN THIS WARRANTY POWER-LINE MAKES NO OTHER WARRANTIES, EXPRESSED OR IMPLIED INCLUDING ANY IMPLIED WARRANTIES OF MERCHANTABILITY AND FITNESS FOR A PARTICULAR PURPOSE POWER-UN E EXPRESSLY DISCLAIMS ALL WARRANTIES NOT STATED IN THIS WARRANTY. ANY IMPLIED WARRANTIES THAT MAY BE IMPOSED BY LAW ARE LIMITED TO THE TERMS OF THIS WARRANTY. NEITHER POWER-LINE NOR ANY OF ITS AFFILIATES SHALL BE RESPONSIBLE FOR INCIDENTAL OR CONSEQUENTIAL DAMAGES. SOME STATES DO NOT ALLOW LIMITATIONS ON HOW LONG AN IMPLIED WARRANTY LASTS OR THE EXCLUSION OR LIMITATION OF INCIDENTAL OR CONSEQUENTIAL DAMAGES, SO THE ABOVE LIMITATIONS OR EXCLUSION MAY NOT APPLY TO YOU.
This Warranty gives you specific legal rights and you may also have other rights that may vary from state to state. This is the only express warranty applicable to Power-Line branded products. Power-Line neither assumes nor authorizes anyone to assume for it any other express warranty.