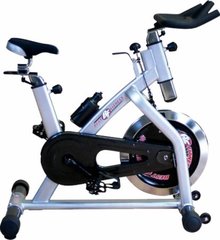 Body-Solid BFSB10 Best Fitness Stationary Bicycle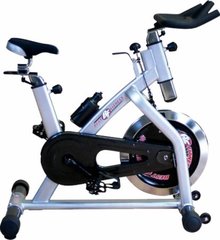 Body-Solid BFSB10 Best Fitness Stationary Bicycle
IMPORTANT SHIPPING INFORMATION
Delivery in the Continental U.S. only. This item is ground shipped by the manufacturer and may take up to 14 days to reach its new home. Trust us - it's worth the wait!
With an indoor cycle training program, the hill doesn't end until you're ready for it to end, but that's not the only benefit of using the Best Fitness BFSB10. When you ride in the comfort and convenience of your own home, you're not limited by the unpredictability of an outdoor terrain, the weather or traffic. You'll also be able to use the cycle fully and have the freedom to close your eyes and concentrate on your pedal cadence without crashing into a tree!
Joining a health club can be an expensive, time-consuming routine, and many novice exercisers are intimidated or become disenchanted by the prospects of working out with experienced fitness enthusiasts. Fortunately, you can achieve measurable benefits to your overall health by committing to a regular fitness regimen in the comfort and convenience of your own home.
The Best Fitness line of equipment takes much of the guesswork out functional, effective home workouts with quality-built machines, ergonomically engineered equipment designs and a commitment to quality and customer satisfaction.
The Best Fitness BFSB10 is an excellent training tool and a marvel of modern engineering. With multiple adjustments and riding positions, you can duplicate the fit of your real bike, and its smooth precision flywheel simulates the real-feel of road riding.
Using a bike can help tone your quad, calf and glut (buttocks) muscles as well as strengthen your tendons, without any load bearing. If you're looking to build leg strength, work your cardiovascular system and burn fat, the Best Fitness BFSB10 is the perfect solution with its:
Better Bodies Begin with Best Fitness
Determining a regimen of regular workouts and exercise programs that accommodate your comfort, skill level and workout goals is the first step to a lifetime of health benefits, but, many people are intimidated by the thought of joining a health club, and others haven't yet discovered the particular exercises and routines that are right for them.
That's why Best Fitness is committed to providing our customers with machines and equipment tailored to your everyday needs for easy-to-do workouts and easy-to-achieve results. Best of all, some of the most basic and efficient exercises can be accomplished in the comfort and convenience of your own home.
The Best Fitness BFSB10 Exercise Bike has been meticulously engineered to offer you the many benefits of biking in the comfort and convenience of your own home.
Give your cardiovascular system a great workout.
Build leg strength.
Burn fat and lose weight.
Non load-bearing exercise reduces the chance of injury.
Reasons for choosing Best Fitness home workout equipment
Best Fitness home workout equipment is innovatively designed to be versatile, durable, dependable and affordable. You'll get a total body workout from one compact machine constructed from high quality materials and components. By owning the equipment you need to achieve the fitness goals you've set, you'll never have to:
Spend an hour driving to a 30 minute workout.
Share your machine with strangers.
Wait for the machine you're ready to use.
Be critiqued by others using the machines near you.
Worry about the cleanliness of the shower facilities of a gym.
Buy with confidence, knowing that committing to a regular exercise routine can help you look good, feel better and achieve your best.
Warranty Agreement
This Warranty applies only in the United States to products manufactured or distributed by Best Fitness under the Best Fitness brand name. The warranty period to the original purchaser is:
15 Years on the Frame
10 Years on motor (if applicable)
2 Years on electronics (if applicable)
2 Years on Parts
6 Months on wear parts (if applicable)
1 Year on labor
Best Fitness warrants that the Product you have purchased for non-commercial, personal, family, or household use from Best Fitness or from an authorized Best Fitness reseller is free from defects in materials or workmanship under normal use during the warranty period.
Your sales receipt, showing the date of purchase of the Product, is your proof of the date of purchase.
This warranty extends only to you, the original purchaser. It is not transferable to anyone who subsequently purchases the Product from you.
It excludes paint and finish.
This Warranty becomes VALID ONLY if the Product is assembled / installed according to the instructions / directions included with the Product.
Warranty Service
To obtain warranty service, you must return the Product to Best Fitness in its original container (or equivalent). You must pre-pay any shipping charges, export taxes, customs duties and taxes, or any other charges associated with transportation of the Product. In addition, you are responsible for insuring any Product shipped or returned. You assume the risk of loss during shipment. You must present Best Fitness with proof-of-purchase documents (including the date of purchase). Any evidence of alteration, erasing or forgery of proof-of-purchase documents will be cause to void this Warranty.
This Warranty does not extend to any Product not purchased from Best Fitness or from an authorized Best Fitness reseller. This Warranty does not extend to any Product that has been damaged or rendered defective; (a) as a result of accident, misuse, or abuse; (b) by the use of parts not manufactured or sold by Best Fitness ; (c) by modification of the Product; (d) as a result of service by anyone other than Best Fitness , or an authorized Best Fitness warranty service provider. Should any product submitted for Warranty service be found to be ineligible, an estimate of repair cost will be furnished and the repair will be made if requested by you upon Best Fitness's receipt of payment or acceptable arrangement of payment.  
EXCEPT AS EXPRESSLY SET FORTH IN THIS WARRANTY BEST FITNESS MAKES NO OTHER WARRANTIES, EXPRESSED OR IMPLIED INCLUDING ANY IMPLIED WARRANTIES OF MERCHANTABILITY AND FITNESS FOR A PARTICULAR PURPOSE. BEST FITNESS EXPRESSLY DISCLAIMS ALL WARRANTIES NOT STATED IN THIS WARRANTY. ANY IMPLIED WARRANTIES THAT MAY BE IMPOSED BY LAW ARE LIMITED TO THE TERMS OF THIS WARRANTY. NEITHER BEST FITNESS NOR ANY OF ITS AFFILIATES SHALL BE RESPONSIBLE FOR INCIDENTAL OR CONSEQUENTIAL DAMAGES. SOME STATES DO NOT ALLOW LIMITATIONS ON HOW LONG AN IMPLIED WARRANTY LASTS OR THE EXCLUSION OR LIMITATION OF INCIDENTAL OR CONSEQUENTIAL DAMAGES, SO THE ABOVE LIMITATIONS OR EXCLUSION MAY NOT APPLY TO YOU.
This Warranty gives you specific legal rights and you may also have other rights that may vary from state to state. This is the only express warranty applicable to Best Fitness branded products. Best Fitness neither assumes nor authorizes anyone to assume for it any other express warranty.
Warranty is not applicable outside the United States. Before returning a product you must call Best Fitness at 1-800-556-3113 to obtain a Return Authorization Number. No returns will be accepted without the Return Authorization Number. Original purchaser must pre-pay all freight charges on warranty claims. Best Fitness will not accept Freight Collect shipments or return shipments on a freight collect basis.