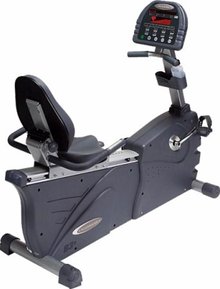 Body-Solid B3R Self Generating Recumbent Bike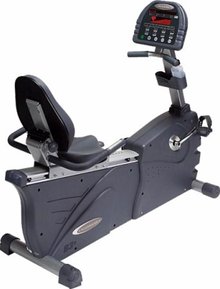 Body-Solid B3R Self Generating Recumbent Bike
All Gain, No Strain With An Efficient, Comfortable Bike Ride!
IMPORTANT SHIPPING INFORMATION
Delivery in the Continental U.S. only. This item is ground shipped by the manufacturer and may take up to 14 days to reach its new home. Trust us - it's worth the wait!
Everyone knows how to ride a bike, but not everyone knows how to build a commercial quality recumbent bike that will provide a lifetime of cardio fitness. The Endurance B3R Recumbent Bike offers commercial quality features that provide you with the feel of a top-end touring bike.
With DuraFirm padding providing comfortable lumbar support, a more comfortable seat than a traditional road bike and 16 levels of smoothly adjustable magnetic resistance, the Endurance B3R puts you in control of your daily ride. You're free to adjust your workouts to suit your mood, challenge your endurance or maximize your cardio benefit.
The Endurance B3R's self-generating electronics provide you with the constant feedback you need to monitor your workout. Plus, with contact heart rate and advanced heart rate control programming, you'll ride smarter and more cardio-efficiently.
Best of all, you'll ride quietly and conveniently in the comfort of your own home, and because a recumbent bike offers you a comfortable, non weight-bearing workout, you'll be able to extend the lengths of your chosen programs. The Endurance B3R is commercially engineered and solidly built to provide you with a lifetime of cardio fitness.
Try to find a better recumbent bike or a more comfortably efficient workout, and you'll end up at the health club. Rain or shine, when you're ready to ride, the Endurance B3R is always ready to roll.
The Endurance B3R puts you in position to achieve your cardiovascular goals!
Endurance bikes are built to perform to the scrutinizing standards of commercial health club equipment. Compare the features of the Endurance B3R, and you'll discover how quality components, precision engineering, state-of-the-art electronics and the best warranty in the industry combine to make Endurance the premier name in home cardio fitness.
Heavy Gauge Welded Steel Construction. The Endurance B3R boasts a beautiful silver metallic coat finish on a frame designed to accommodate up to a 400-pound user.
Comfortable Lumbar Support. The non weight-bearing advantage of a recumbent bike is greatly enhanced by the Dura-Firm? padding with lumbar support featured on the Endurance B3R. You'll be more comfortable extending the length of your workouts, thereby enhancing the cardiovascular benefits of your routines.
Quiet Performance. The 24 lb. precision balanced flywheel and super-silent poly-V belt drive system mean the Endurance B3R will take you for a smooth quiet ride.
Profile Matrix LED display provides you with an interactive conduit to the efficiency and monitoring of your workout, including Contact Heart Rate Control, time, distance, speed and calories burned. You'll also get feedback on resistance level, Watts and METS, helping you keep your workout interesting and effective.
Self-Generating Power. A commercial quality, self-contained generator provides all the power needed to run the ergonomically friendly console with large, bright, easy-to-read display.
Rollaway Convenience. Front transport wheels allow you to roll the Endurance B3R to a convenient corner or out-of-the-way area of your home.
The advantages of using the Endurance B3R.
The Endurance B3R features 8 fitness programs and 16 levels of variable magnetic resistance that puts you in the driver's seat of your desired workout. You'll monitor your progress on an easy-to-read electronic display that charts heart rate, distance, speed, time, calories, resistance level, watts and METS. Best of all, you'll ride your way into a healthier, cardio-fit lifestyle.
Heart Rate Control is almost like having your own personal trainer, empowering you to maximize your workout results. The Heart Rate Control program will monitor your heart rate and automatically adjust to maintain your target heart rate.
Cardio Training is the first step to a healthier heart, enabling you to strengthen your entire cardiovascular system.
Endurance Training can help you fight fatigue in your daily routines, improve your overall mood and develop a healthy, fit appearance.
Fat Burning programs are designed to help you quickly reduce your waistline and develop a fitter, trimmer physique.
Interval Training combines the aspects of endurance training and cardio training with various speeds and levels of resistance. For many, the variable nature of such a workout eliminates frustrating fitness plateaus.
If you can ride a bike, you can achieve cardio fitness. The familiarity of the motion makes biking universal in its appeal for those wishing to improve their overall health and fitness through non weight-bearing exercise.
Now, you can add comfort to your checklist of desired features with the Endurance B3R, a superior recumbent exercise bike built to the demanding standards of commercial health clubs. Whether your goal is to build your endurance, lose weight or improve your cardiovascular health, the Endurance B3r offers the pedal-pushing performance you need to achieve your goals.
With it's elegant metallic powdercoat finish, super-silent drive system and 16 levels of smooth, consistent magnetic resistance, the Endurance B3R will inspire you to hit the ground riding every day... on your way to peak physical conditioning. Plus, with all the features and benefits solidly built into every Endurance bike, you'll be making a wise, long-term commitment to health and cardio fitness.
The Road to Cardio Fitness is Paved with Endurance
Smart investments pay dividends for a long time. Buying and using an exercise bike can be an excellent way to strengthen your cardiovascular system, manage your weight and burn calories. However, all treadmills are not created equal.
To ensure you make a smart decision, make sure you buy a sturdy, strong, well-made bike. An authorized Endurance retailer or knowledgeable fitness expert will be able to provide you with many good, solid reasons to consider the Endurance B3R over many higher priced brands used in professional health clubs.
Lasting Endurance. Our exclusive lifetime, in-home warranty provides 100% coverage for every part on every Endurance machine, including normal wear items. Forever... period.
Stringent Standards. Endurance cardio equipment is solidly built in our state-of-the-art ISO9000:2000-certified manufacturing facility, recognized around the world as a sign of product excellence.
Shipping Info:
Products are only available to be shipped within the USA. Freight shipment is determined by the size, count and weight of the box/boxes. UPS and FedEx Ground are used for smaller shipments and large shipments utilize LTL freight carriers. Body-Sold will use its discretion when making the decision as to how best to ship product.
Freight shipments are delivered curbside, consumer must be prepared to off load their ordered product, sign for and accept responsibility once in their possession.
Return Policy: All sales are final!
Warranty Agreement
Lifetime of the original purchaser on the entirety of the product.
1 Year Labor
Body-Solid warrants that the Product you have purchased for non-commercial, personal, family, or household use from Body-Solid or from an authorized Body-Solid reseller is free from defects in materials or workmanship under normal use during the warranty period.
Your sales receipt, showing the date of purchase of the Product, is your proof of the date of purchase.
This warranty does not cover damage or equipment failure caused by, or resulting from accident, misuse, abuse, improper assembly or installation, non-authorized modification, or failure to provide reasonable and necessary care as outlined in the owner's manual.
Labor coverage is provided only if the work is done by an authorized Endurance dealer or the Endurance factory. During the labor coverage period, Endurance compensates authorized Endurance dealers for warranty trips within their normal service area to make repairs at the customer's location. You may be charged a travel charge outside the normal service area.
This warranty will not be extended to any product whose serial number has been removed, altered, or defaced.
This warranty does not cover service calls made to instruct owners on how to operate this equipment.
This warranty does not cover customer instruction, installation, set-up, or adjustments.
User is also responsible for reasonable and necessary maintenance. Reasonable and necessary maintenance includes proper cleaning and lubrication as specified in the owner's manual. Failure to properly clean and lubricate the XTrainer will void this warranty.
Floor models and demonstration units shall carry a Lifetime Home-Use Warranty on Frame, Parts, Electronics and Wear Items - but will not be covered for any labor charges.
This warranty is valid only in the United States and Canada.
This warranty extends only to you, the original purchaser. It is not transferable to anyone who subsequently purchases the Product from you.
This warranty does not cover end user maintenance requirements as described in the owner's manual provided with the unit.
It excludes expendable parts such as paint and finish.
This Warranty becomes VALID ONLY if the Product is assembled / installed according to the instructions / directions included with the Product.
Warranty Service
To obtain warranty service, you must return the Product to Body-Solid in its original container (or equivalent). You must pre-pay any shipping charges, export taxes, customs duties and taxes, or any other charges associated with transportation of the Product. In addition, you are responsible for insuring any Product shipped or returned. You assume the risk of loss during shipment. You must present Body-Solid with proof-of-purchase documents (including the date of purchase). Any evidence of alteration, erasing or forgery of proof -of-purchase documents will be cause to void this Warranty.
This Warranty does not extend to any Product not purchased from Body-Solid or from an authorized Body-Solid reseller. This Warranty does not extend to any Product that has been damaged or rendered defective; (a) as a result of accident, misuse, or abuse; (b) by the use of parts not manufactured or sold by Body-Solid; (c) by modification of the Product; (d) as a result of service by anyone other than Body-Solid, or an authorized Body-Solid warranty service provider. Should any product submitted for Warranty service be found to be ineligible, an estimate of repair cost will be furnished and the repair will be made if requested by you upon Body-Solid's receipt of payment or acceptable arrangement of payment.
EXCEPT AS EXPRESSLY SET FORTH IN THIS WARRANTY BODY-SOLID MAKES NO OTHER WARRANTIES, EXPRESSED OR IMPLIED INCLUDING ANY IMPLIED WARRANTIES OF MERCHANTABILITY AND FITNESS FOR A PARTICULAR PURPOSE. BODY-SOLID EXPRESSLY DISCLAIMS ALL WARRANTIES NOT STATED IN THIS WARRANTY. ANY IMPLIED WARRANTIES THAT MAY BE IMPOSED BY LAW ARE LIMITED TO THE TERMS OF THIS WARRANTY. NEITHER BODY-SOLID NOR ANY OF ITS AFFILIATES SHALL BE RESPONSIBLE FOR INCIDENTAL OR CONSEQUENTIAL DAMAGES. SOME STATES DO NOT ALLOW LIMITATIONS ON HOW LONG AN IMPLIED WARRANTY LASTS OR THE EXCLUSION OR LIMITATION OF INCIDENTAL OR CONSEQUENTIAL DAMAGES, SO THE ABOVE LIMITATIONS OR EXCLUSION MAY NOT APPLY TO YOU.