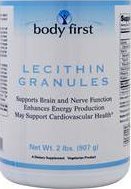 Body First Lecithin Granules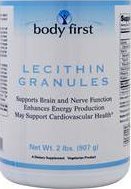 Body First Lecithin Granules
Lecithin Granules Overview
Body First's Lecithin Granules are a premium source of pure soy lecithin. Lecithin granules provide a bioavailable source of natural phosphatidylcholine, phosphatidylserine, inositol and linoleic acid among many others. Lecithin granules are typically taken as a liver, heart, brain and overall general health supplement. *

Lecithin has been shown to help break down cholesterol molecules and prevent the formation of arterial plaque. This benefits the cardiovascular system by reducing LDL cholesterol and blood triglyceride levels. Lecithin has also been shown to support liver function and is currently under research as a possible treatment and preventative measure for liver disease. Lecithin is also a natural source of phosphatidylcholine and phosphatidylserine, two important components necessary for proper nerve function and acetylcholine production in the brain. Supplementing with lecithin may also prevent gallstones by reducing the level of free cholesterol found in the blood, which is a leading cause of gallstone formation. Adding a premium lecithin granule supplement to your diet can help support healthy organ function. *

Lecithin Granule Benefits

-Supports A Healthy Cardiovascular System*
-Supports Heart, Liver & Brain Health*
-May Prevent Gallstone Formation*
-Natural Source of Phosphatidylserine & Phosphatidylcholine*

* These statements have not been evaluated by the FDA. This product is not intended to diagnose, treat, cure or prevent any diseases.
Lecithin Granules Description from BODY FIRST
Lecithin is a naturally occurring compound found in all cells in nature, plant and animal. It plays a major role in almost all biological processes - including nerve transmission, breathing and energy production. The word Lecithin is taken from the Greek Lekithos, which means "egg yolk". A fitting name for this essential nutrient for the egg is considered a symbol of life, strength and fertility. Lecithin is considered a symbol of life, strength and fertility. Lecithin is important for all of these biological functions and more. Our brain is approximately 30% Lecithin. The insulating myelin sheaths that protect the brain, spine and thousands of miles of nerves in your body are almost two-thirds Lecithin. Even the heart has a high concentration of Lecithin. Lecithin is composed of many different components, including Choline, Inositol, Linoleic Acid, Phosphatidylserine, beneficial fatty acids and triglycerides. These valuable constituents of Lecithin are vital for the proper functioning of many metabolic processes. Our Lecithin Granules are derived entirely from soybeans.
Supplement Facts
Service Size: 10 grams
Servings Per Container: 90
Ingredient
Amount
% Daily Value**
Calories
70
Calories from Fat
50
Total Fat
5.5g
8
Saturated Fat
1g
5
Polyunsaturated Fat
3.5g
†
Total Carbohydrate
1g
Phosphorus
300mg
30
Potassium
160mg
5
Soy Lecithin
10g
†
** Percent Daily Value is based on a 2000 calorie diet. Your daily values may be higher or lower depending on your calorie needs.
† Daily Value not established.

Ingredients:
Other ingredients: None.
Manufacturer's Directions
As a dietary supplement, take 2 tablespoons daily, preferably with a meal. Mix in juice or shakes, or sprinkle on food.