Warning: This product is not currently available at any store.
Click the button above and PricePlow will email you when the first store has it in stock!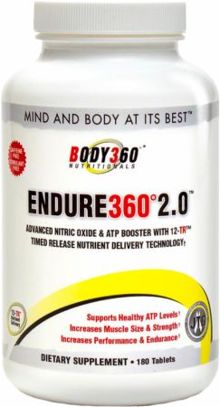 Body 360 Nutritionals Endure360 2.0
With NITROSIGINE
Nitric Oxide Reinvented
Increases Nitric Oxide*
ElevATP Supports Healthy ATP Levels*
Advanced Nitric Oxide with 12-TR Timed Release Nutrient Delivery Technology
WITH
CLINICALLY STUDIED INGREDIENTS
EXTREME ENDURANCE*
UNPARALLELED PERFORMANCE*
Endure
360

2.0- A Different Slant on N.0. & ATP. Like No Other Nitric Oxide In It's Class.

"Endure360 2.0" with Nitrosigine (Inositol-Stabilized Arginine Silicate) is exactly what it purports to be in the category of Pre | Intra | Post Workout Supplements. It gives you the extra fuel you need to take your workout up to 11...er, 360. Endure360 is an Advanced Nitric Oxide/ATP endurance and performance booster for that extra "oomph" you need to really excel while being active, i.e., Bodybuilding, Crossfit, Cycling, Triathlons or any other activity that requires your body's performance systems to function at the highest levels.

This advanced nitric oxide supplement with 12-TR - Timed Release Nutrient Delivery Technology works to expand blood vessels and increase ATP (Adenosine Triphosphate.) Nitric Oxide and ATP are essential for performance and endurance during exercise and our patented 12-TR delivery system helps to deliver "the goods." 12-TR is comprised of specially processed natural fibers that form a gel-like mass in the gut which releases nutrients gradually just as whole foods do. This system scientifically maximizes nutrient uptake and delivery to muscle tissue 24/7 at the cellular level - All Day, Everyday!

Offering a unique infusion of Nutrition21's Nitrosigine (Inositol-Stabilized Arginine Silicate – The Latest and Greatest in NO Production) and Futureceuticals –– eleveATP - (a mixture of ancient peat and apple extract), Body360 also combines other key ingredients in its proprietary formula. This "next generation" Pre | Intra| Post Workout Supplement includes 2 grams of the powerful antioxidant Taurine (also great for muscle pumps), L-Norvaline, a two-tier Citrulline Complex, Carnosyn Beta-Alanine and many more healthy performance enhancers. These high grade ingredients work synergistically to give your body that extra strength, cardiovascular performance and muscle pumps during rigorous activity and also promotes the body's ability to repair itself after you complete your workout. Be the guy or gal that is super–human!

Sustained Endurance...Sustained Performance…Endure360 2.0!*
UNBELIEVABLE PUMPS*
UNDENIABLE STRENGTH*
INCREASES MUSCLE SIZE*
B

ODY

3

60 SCIENCE

Move Over Arginine HCL...
What is Nitrosigine?
Nitrosigine is a patented complex of bonded arginine silicate proven to increase nitric oxide levels.
About Nitrosigine
Move over Arginine HCL. Now there is something that is more effective – Nitrosigine– Bonded Arginine Silicate. In the world of boosting the body's oxygen intake and usage, one of the newest players on the block is Nitrosigine. As you well know nitric oxide is a key element in increasing the flow of blood to your muscles which assists your body's ability to perform at its highest levels. According to Nutrition21(the scientists behind Nitrosigine), Nitrosigine works this magic by relaxing the body's smooth muscles and increasing blood levels of arginine and silicone levels.
Many of the nutrients needed for maintaining muscular and dietary health are not naturally made by the body and thus must come in supplement form. This is also true of silicon, which can boost the body's arterial walls, which in turn increases the body's blood flow supply. Nutrition21 maintains that when arginine and silicate are bonded together, the combined effects spell greater maximum output for the body as you work out.
Study: According to Nutrition 21, Nitrosigine nearly doubled maximum blood flow compared to other supplements like Arginine HCL in a controlled study. Their study went on to say that enhanced blood flow during and following exercise can increase muscle growth and recovery from intense exercise. More oxygen flow to blood gives you more endurance as you work out, which makes your workouts both longer and more intense. *
What is elevATP?
elevATP is a proprietary combination of trace minerals from "ancient peat" and a polyphenol-rich apple extract.
About elevATP
What is ATP? Adenosine triphosphate (ATP) is one of the great building blocks of your body— produced in every cell in your body and helping to run your body throughout its life. According to the National Institutes of Health, ATP provides your body with the energy it needs for many metabolic processes, including making RNA. As we age, our bodies produce less ATP, which affects tissue function and quickens the aging process. Taking supplements, (elevATP) especially as you age, can help to support healthy ATP levels.
What is 12-TR – Timed Release Nutrient Delivery?
12-TR is a patented delivery technology that maximizes bioavailability of nutrients over an extended period of time.
How it works?
12-TR is comprised of specially processed natural fibers that form a gel-like mass in the gut which releases nutrients gradually just as whole foods do. This system scientifically maximizes nutrient uptake and delivery to muscle tissue 24/7 at the cellular level - All Day, Everyday!*
What is Carnosyn - Beta-Alanine?
Beta-Alanine, a non-essential amino acid, can assist your athletic performance and according to the Mayo Clinic lead to increased muscle mass and better body functioning. Beta-Alanine, specifically Carnosyn is making inroads in the health and supplement scene, increasingly being used to increase performance and endurance for athletes and the layperson alike. Carnosyn is a patented form of Beta-Alanine that is manufactured and widely studied by Natural Alternatives International (NAI). According to NAI, this patented form of "beta-alanine is a pre-cursor to carnosine. It joins with the amino acid histidine through a peptide bond to form carnosine in the muscle. Muscle carnosine is the major buffering agent, or neutralizer, of hydronium ions that lead to muscle fatigue and failure." Increasing muscle carnosine concentrations can lead to decreased fatigue and prolonged high-level performance output.
Carnosyn Benefits
Increase muscle carnosine for prolonged periods*
Increase muscle buffering capacity*
Improve endurance*
Delay fatigue*
Increase strength*
Speed recovery from intense exercise*