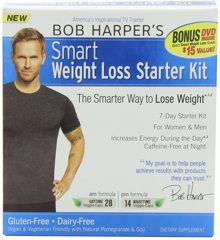 Bob Harper Smart Weight Loss Starter Kit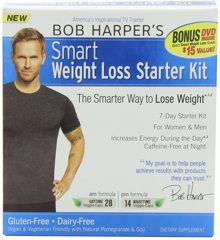 Bob Harper Smart Weight Loss Starter Kit
Get Started with My Powerful 7-Day Starter Kit!
The path to successful weight loss can be confusing when you don't know where to start, so I've made it simple for you. My Smart Weight Loss Starter Kit will help equip you with the tools to start you on your weight-loss journey - the smart way!
Whether it's your first time trying to lose weight or you used to be lean and active but slowly added on weight over time, this advanced kit is a great starting point.
AM/PM Format
A 7-day supply of my Smart Weight Loss in an easy-to-use AM/PM format.
Bonus DVD
The Starter Kit comes with a bonus DVD - Bob's Smart Weight Loss Guide! It's a free $15 value packed with tips on proper eating and weight loss, a 30-minute Smart Workout, motivational advice, and more!
Meal Plan & Exercise Programs
An additional, easy-to-understand foldout with a meal plan, nutritional advice, beginner and advanced exercise programs, and more.
Realize Your Weight-Loss Potential
Starting with this Smart Weight Loss Starter Kit will help plant the seeds to start your weight-loss journey - through the knowledge of exercise, proper nutrition and my Smart Weight Loss formula. You can then continue your weight-loss journey with my Smart Weight Loss 72-count.