Warning: This product is not currently available at any store.
Click the button above and PricePlow will email you when the first store has it in stock!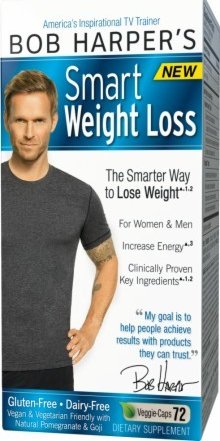 Bob Harper Smart Weight Loss
The Smarter Way to Help Lose Weight!* 1,2
Get ready for weight-loss success because Smart Weight Loss has arrived! My Smart Weight Loss is designed to help women and men achieve weight loss my way - the Smart way!* It's gluten- and dairy-free, vegan and vegetarian friendly and contains clinically suggested key weight-loss ingredients, along with natural pomegranate and goji. With the power of my Smart Weight Loss as part of your diet and exercise plan, you can succeed and be that person you always wanted to be.* Are you ready?
Smart Weight Loss You Can Feel Good About!
My Smart Weight Loss is gluten-, dairy- and lactose-free, and also vegan and vegetarian friendly, so you can be confident you're getting weight-loss results in a formula you can feel good about. It also contains natural pomegranate and goji and comes in a convenient veggie-cap format.
Increases Your Daily Energy*
This formula is also designed with another key ingredient (coffee extract [Coffea arabica]) that supports increased energy, so you can get the most out of your busy lifestyle.*3
Clinically Suggested Key Weight-Loss Ingredients
The key weight-loss ingredients are suggested in two gold-standard clinical studies.1,2 You can trust that my Smart Weight Loss product works!*
1 In study one, a 12-week third-party, randomized, double-blind, placebo-controlled clinical study, test subjects using the key ingredients (TrimSmart™: frauenmantle extract, wild olive extract, cormino extract, horsemint extract) in Bob Harper's Smart Weight Loss Formula lost an average of 20.94 lbs. versus the placebo group, who lost an average of 1.70 lbs. Both groups followed a calorie-reduced diet.*
2 In study two, an 8-week randomized, double-blind, placebo-controlled clinical study funded by the makers of Bob Harper's Smart Weight Loss Formula, test subjects using the same key ingredients lost an average of 16.50 lbs. vs. 1.73 lbs. for the placebo group. Both groups followed a calorie-reduced diet.*
3 New Bob Harper's Smart Weight Loss Formula also contains an ingredient (coffee extract [Coffea arabica]) that supports increased energy so you can get the most out of your busy lifestyle!*