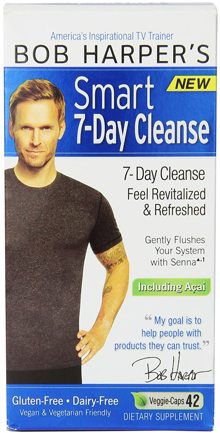 Bob Harper Smart 7-Day Cleanse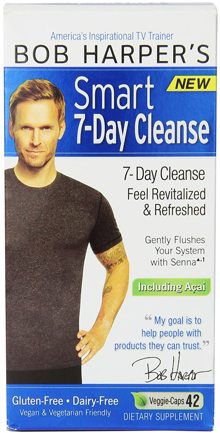 Bob Harper Smart 7-Day Cleanse
The Smarter Way to Cleanse*
Now you can feel revitalized and refreshed with my gentle and easy-to-use Smart 7-Day Cleanse.* It's gluten- and dairy-free, vegan and vegetarian friendly, contains natural açai, and best of all, it'll help you feel rejuvenated!*
Gently Flushes Your System*
My Smart 7-Day Cleanse works with your body's natural elimination process so you can gently flush out waste from your system.*
"My Smart 7-Day Cleanse formula is formulated to my highest personal standards. I'm confident you'll feel revitalized and refreshed!" -Bob Harper
Meets My Personal Standards
This highly effective cleanse is gluten, dairy and lactose-free, and is vegan and vegetarian friendly. It also contains natural açai and comes in a convenient veggie-cap format.
Scientifically Researched Key Ingredient
The key ingredient in my Smart 7-Day Cleanse (senna extract) has been suggested effective through scientific research - so you can trust it to work!
With my Smart 7-Day Cleanse, you can be confident you're getting quality you can feel good about!