Warning: This product is not currently available at any store.
Click the button above and PricePlow will email you when the first store has it in stock!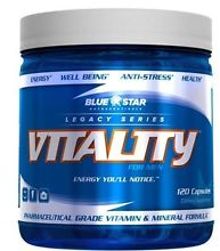 Blue Star Nutraceuticals Vitality For Women
Vitality For Women from Blue Star Nutraceuticals is jam-packed with vitamins and minerals that an active woman needs for optimal health and wellness. A woman's supplement needs differ from a man's and Vitality for Women at Paramount-Supplements covers all the bases with this complete formula.

The core ingredients in Vitality for Women are clinically validated on human test subjects , which is important since most companies mislead you by promising results solely on animal research. What's worse, they don't use the clinically validated dose in their formula!

Vitality for Women Highlights Include:


More Natural Energy
Better Sleep
Decrease in Cortisol
Improved Focus and Mood
Improved Performance
Increased Health and Well Being
Improved Skin Tone and Decrease in Acne
Decreased Symptoms of PMS

Vitality for Women Aids in Cortisol Reduction:

Cortisol, better known as the "Stress Hormone" is the ENEMY for anyone trying to improve or maintain their physique. Too much cortisol will increase fatigue, insulin resistance and even accelerate the aging process. VITALITY drastically combats this hormone, as well as delivers extra nutrients needed for your physical demands.