Warning: This product is not currently available at any store.
Click the button above and PricePlow will email you when the first store has it in stock!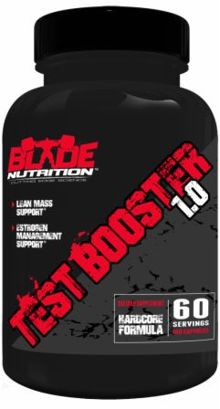 Blade Nutrition Test Booster 1.0
Blade Nutrition Test Booster 1.0 is exactly what you need in a test booster ensuring thatyou are working with your body to promote the production of free testosterone and increaseyour own ability to build muscle and burn fat.*
Multi-Pathway testosterone boosting capabilities.*
Supports muscle growth & strength.*
Estrogen management system to ensure ffectiveness of free testosterone.*
Whether you are currently on a plateau or you are looking to obtain more energy in life and in thegym this test booster and its full coverage blend of natural extracts will maximize your body'sanabolic potential without compromising natural production. Test Booster 1.0 works with your bodyto elevate natural test levels all while inhibiting unwanted increase in estrogen; leading toincrease muscle density, a balanced metabolism, and insane natural energy levels.*
D-Aspartic Acid is an ingredient that has been clinically shown to maximize the release and synthesisof luteinizing hormone and promote endogenous testosterone levels during training. Playing a large rolein metabolic support D-Aspartic Acid can lead to increase muscle size as well as increased naturalfat burning processes.*
DIM (Diindolylmethane) further enhance the effects of circulating testosterone in the body. DIM isknown for its ability to convert active estrogens into inactive estrogen metabolites. These metabolitesessentially free up the testosterone molecule by separating them from the testosterone-binding proteins,such as sex hormone-binding globulin; this ultimately promotes the circulation of free testosterone.*
DHEA, or Dehydroepiandrosterone, is a hormone generated by the body and controlled by the adrenal gland.Both male sex hormones (i.e. testosterone) and female sex hormones (i.e. estrogen) depend on the body'sproduction of DHEA, as it is a precursor to all sex hormones. It's natural for the levels of DHEA todecrease with age, thus adequate supplementation is recommended to help support these levels.
Tribulus Terresteris is a natural testosterone booster that works with the Luteinizing Hormone (LH) andFollicle Stimulating Hormone (FSH). Tribulus supports the production of LH, in turn, promotes testosteronelevels. Testosterone plays a crucial role in the development and growth of muscle, thusly suggestingtribulus and its potential role in body composition and athletic performance improvements.*