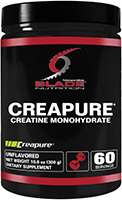 Blade Nutrition Creatine Monohydrate 1.0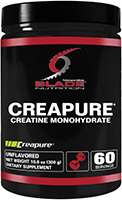 Blade Nutrition Creatine Monohydrate 1.0
Support Muscle Performance*
Support ATP Levels*
Support Power and Endurance*
Assist Anaerobic Glycolysis*
Support Recovery from Exercise*
Blade Nutrition™ Creatine 1.0
As one of the most popular supplements used in the athletic industry, creatine has been utilized by all types of athletes throughout the years to help support power output, muscular energy, strength, endurance and repair. A naturally occurring substance in the human body, supplementing with creatine has been suggested to assist the formation of adenosine triphosphate (ATP) to support and prolong training sessions.*
DETAILS
Creatine monohydrate is perhaps the most useful performance-supporting nutritional supplement currently available to athletes for supporting high-intensity exercise capacity and lean body mass during training. Approximately 95% of the creatine in the body is located in skeletal muscle. To date, several hundred peer-reviewed research studies have been conducted to evaluate the efficacy of creatine monohydrate supplementation in supporting exercise performance. Nearly 70% of these studies have reported a significant improvement in exercise capacity.*
Creatine in a 3-gram daily dose is scientifically shown to support performance in a successive burst of short-term, high-intensity exercise like weight training and interval cardio. The average gain in performance from these studies typically ranges between 10 to 15% depending on the variable of interest. For example, short-term creatine monohydrate supplementation has been reported to support maximal power/strength (5–15%), work performed during sets of maximal effort muscle contractions (5–15%), single-effort sprint performance (1–5%), and work performed during repetitive sprint performance (5–15%).*
Creatine not only assists workout performance but also has recently been shown to support muscle hypertrophy through activation of satellite cell activity. Another added benefit of creatine is that it may also reduce post-exercise inflammation and muscle damage. More current research studies have now shown that creatine can amplify the protective effect of previous workouts. Creatine may have antioxidant properties that can have protective effects on muscle damage, reducing muscle damage. Creatine also supports lean muscle mass by boosting intracellular water content, but other studies have shown that creatine assists the activity of satellite cells, which supports the potential for growth of muscle fibers and also aids in muscle recuperation.*
It is the position of the International Society of Sports Nutrition that the use of creatine as a nutritional supplement within established guidelines is safe, effective and ethical. Also, creatine monohydrate has repeatedly been reported to be safe, as well as possibly beneficial in preventing injury.*
Veggi K FT, Machado M, Koch AJ, Santana SC, Oliveira SS, Stec MJ. Oral creatine supplementation augments the repeated bout effect. Int J Sport Nutr Exerc Metab. 2013 Aug;23(4):378-87.
Cook CJ, Crewther BT, Kilduff LP, Drawer S, Gaviglio CM. Skill execution and sleep deprivation: effects of acute caffeine or creatine supplementation – a randomized placebo-controlled trial. J Int Soc Sports Nutr. 2011 Feb 16;8:2.
Kreider RB: Effects of creatine supplementation on performance and training adaptations. Mol Cell Biochem 2003, 244:89-94.
Ormsbee MJ, Mandler WK, Thomas DD, Ward EG, Kinsey AW, Simonavice E, Panton LB, Kim JS. The effects of six weeks of supplementation with multi-ingredient performance supplements and resistance training on anabolic hormones, body composition, strength, and power in resistance-trained men. J Int Soc Sports Nutr. 2012 Nov 15;9(1):49..
Kreider RB, Melton C, Rasmussen CJ, Greenwood M, Lancaster S, Cantler EC, Milnor P, Almada AL: Long-term creatine supplementation does not significantly affect clinical markers of health in athletes. Mol Cell Biochem 2003, 244:95-104.
Vandenberghe K, Goris M, Van Hecke P, Van Leemputte M, Vangerven L, Hespel P: Long-term creatine intake is beneficial to muscle performance during resistance training. J Appl Physiol 1997, 83:2055-63.
Tarnopolsky MA: Potential benefits of creatine monohydrate supplementation in the elderly. Curr Opin Clin Nutr Metab Care 2000, 3:497-502.
Buford TW, Kreider RB, Stout JR, et al. International Society of Sports Nutrition position stand: creatine supplementation and exercise. Journal of the International Society of Sports Nutrition. 2007;4:6.
Louis M, Van Beneden R, Dehoux M, Thissen JP, Francaux M. Creatine increases IGF-I and myogenic regulatory factor mRNA in C(2)C(12) cells. FEBS Lett. 2004 Jan 16;557(1-3):243-7.
Deldicque L, Theisen D, Bertrand L, Hespel P, Hue L, Francaux M. Creatine enhances differentiation of myogenic C2C12 cells by activating both p38 and Akt/PKB pathways. Am J Physiol Cell Physiol. 2007 Oct;293(4):C1263-71.