Warning: This product is not currently available at any store.
Click the button above and PricePlow will email you when the first store has it in stock!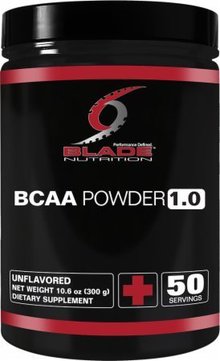 Blade Nutrition BCAA Powder 1.0
3
G
L-LEUCINE
---
1.5
G
L-ISOLEUCINE
---
1.5
G
L-VALINE
PER SERVING
Supports Muscle Growth*
Supports the Reduction of Muscle Breakdown*
Supports Muscle Recovery and Recuperation*
Blade Nutrition BCAA Powder 1.0
Among some of the most beneficial supplements in any sports nutrition program are the Branched Chain Amino Acids (BCAAs). BCAA's consist of Leucine, Isoleucine and Valine, which can only be provided through food or supplements. BCAAs are unique in that they are metabolized in skeletal muscle. Numerous studies have demonstrated the anabolic and anti-catabolic effects of taking BCAAs, and supplementing your diet with BCAA's can assist in faster muscle recovery, prolonged endurance and supported metabolic fuel during exercise.*
DETAILS
BCAAs have a distinct chemical structure that allow your muscles, rather than your liver, to metabolize them. Clinical research with BCAAs suggests an ability to support protein synthesis and decrease muscle protein breakdown. Studies suggest that taking a dosage before and after exercise may have a greater impact on reducing muscle soreness.* In fact, a study published in the International Society of Sports Nutrition reported that BCAA supplementation taken before and after "damaging" resistance training reduces signs of muscle breakdown and accelerates recovery in resistance-trained males. Additional research from the Journal of Nutrition indicates that supplementing with BCAAs prior to squatting may decrease delayed-onset muscle soreness (DOMS) and muscular fatigue for several days post exercise. Another study examining females who were provided with BCAA supplementation (approximately a 2:1:1 ratio favoring leucine) prior to high volume squat exercises noted the BCAA group (relative to carbohydrate placebo) experienced less soreness and improved muscle strength when measured two days later.*
Studies on resting human muscle indicate that administration of BCAAs, particularly leucine, has a positive effect on protein metabolism by either supporting the rate of protein synthesis or decreasing the rate of protein degradation, or both. One study reported that high BCAA supplementation produced a net anabolic hormonal profile (i.e. reduced cortisol) while attenuating training-induced increases in muscle tissue breakdown. BCAAs are not only a substrate for protein synthesis but also modulate several components of the synthetic machinery and help to conserve muscle mass. BCAAs reduce amino acid loss from muscle, support protein synthesis and help to regulate serum amino acid levels.*
Howatson G, Hoad M, Goodall S, Tallent J, Bell PG, French DN. Exercise-induced: a randomized, double-blind, placebo controlled study. J Int Soc Sports Nutr. 2012 Jul 12;9:20.
Kato Y, Numao S, Miyauchi R, Suzuki M. Effect of intermittent blood volume fluctuation of light resistance exercise after ingestion of the high-protein snacks on plasma branched-chain amino Acid concentrations in young adults. J Nutr Sci Vitaminol (Tokyo). 2010;56(4):255-9.
Yoshiharu Shimomura, Yuko Yamamoto, Gustavo Bajotto, Juichi Sato, Taro Murakami, Noriko Shimomura, Hisamine Kobayashi, and Kazunori Mawatari. Nutraceutical Effects of Branched-Chain Amino Acids on Skeletal Muscle. J. Nutr. February 2006 vol. 136 no. 2 529S-532S
Alvestrand A, Hagenfeldt L, Merli K, Oureshi A, Eriksson LS. Influence of leucine infusion on intracellular amino acids in humans. Eur J Clin Invest. 1990;20:293–8
Louard RJ, Barrett EJ, Gelfand RA. Effect of infused branched-chain amino acids on muscle and whole-body amino acid metabolism in man. Clin Sci (Lond). 1990;79:457–66.
Nair KS, Schwartz RG, Welle S. Leucine as a regulator of whole body and skeletal muscle protein metabolism in humans. Am J Physiol. 1992;263:E928–34.
Shimomura, Y, Inaguma, A, Watanabe, S, Yamamoto, Y, Muramatsu, Y, Bajotto, G, et al. Branched-chain amino acid supplementation before squat exercise and delayed-onset muscle soreness. International Journal of Sports Nutrition and Exercise Metabolism 20(3): 236-244, 2010.