Warning: This product is not currently available at any store.
Click the button above and PricePlow will email you when the first store has it in stock!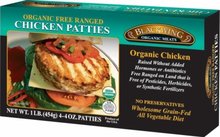 Blackwing Organic Seasoned Chicken Patties
IMPORTANT SHIPPING INFORMATION
Delivery in the Continental U.S. only. This item is ground shipped by the manufacturer and may take up to 14 days to reach its new home. Trust us - it's worth the wait!
100% certified Organic & Free Range Chicken by Blackwing. In keeping with the highest standards of the health food industry, Blackwing introduces a no hormone, antibiotic-free chicken that is fed organic feed with plenty of space to fully qualify as free range chicken. Our all natural diet of organic soy beans & corn have no animal by-products to endanger your health. You will discover a delicious taste difference that separates Blackwing from all the others.
Each young chicken is fed certified organic feed for its entire life. Processing at 6 weeks assures tenderness. Our organic feed contains all natural diet of organic soy beans and corn that were grown in soil that has been free of pesticides and chemical fertilizers for a period of at least three years.
Blackwing goes even further to make sure our meats are top quality. All ingredients must be certified as acceptable by a third party certifier. The are raised on family farms in Pennsylvania's Amish country. Each bird is tracked from egg to our door. Discover a delicious taste difference that separates Blackwing from all of the others.
Delicious 100% organic chicken patties ready to place on a skillet or even in a microwave. Seasoned with organic sea salt, garlic, onion and a pinch of turbinado sugar. Made with 100% organic dark meat and 35% white meat chicken that has 46% less fat than conventional dark meat chicken. Our seasoned patties are truly delicious and we know you will agree.