Warning: This product is not currently available at any store.
Click the button above and PricePlow will email you when the first store has it in stock!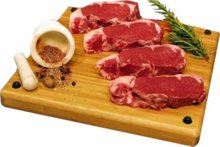 Blackwing Organic Beef Sample Package
IMPORTANT SHIPPING INFORMATION
Delivery in the Continental U.S. only. This item is ground shipped by the manufacturer and may take up to 14 days to reach its new home. Trust us - it's worth the wait!
Blackwing proudly introduces North America's healthiest certified 100% Organic Beef.
Our 100% Organic, Free Range Beef is not only richer in Omega 3's and CLA's but has less fat, calories and cholesterol than chicken. Our 100% Organic Beef has been university tested and found to be more tender and flavorful than Angus Beef.
This 25,000 year old species of beef, known as Piedmontese Beef, was brought to North America in the 1980's. We're proud to have obtained 4500 head for the next 18 months. We hope you'll try this incredible healthy beef which has received acclaim by some of our nation's 5 star chefs.
Great gift, and a opportunity to sample our variety of organic Piedmontese Beef - 2/6oz. Tenderloin, 2/8oz. Rib Eye, 2/8oz. Strip Loin, 2/8oz. Sirloin Steak, 1 Lb. Ground, 4/4oz. Patties, 1 Lb. Stew Meat, and 1 Lb. Steak Strips.