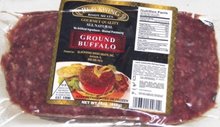 Blackwing Buffalo Ground Package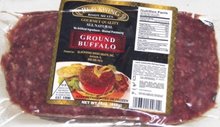 Blackwing Buffalo Ground Package
IMPORTANT SHIPPING INFORMATION
Delivery in the Continental U.S. only. This item is ground shipped by the manufacturer and may take up to 14 days to reach its new home. Trust us - it's worth the wait!
Bison is a wonderful healthy red meat with all of the flavor and texture of beef. It#&39;s rich in protein and high in iron yet is lower in fat, calories and cholesterol than skinless chicken or turkey. In fact, Bison is one of the low fat meats recommended by the USDA as part of a balanced & nutritious diet. Our organic bison meat makes a filling, delicious meal.
Our bison are free range, kept in the Dakotas on thousands of acres of untouched prairie with clean air & water. Our Bison are inspected by USDA veterinarians to assure each animal is in perfect health.